Judge seeks to revive AMIA bombing cover-up case involving Argentina's former president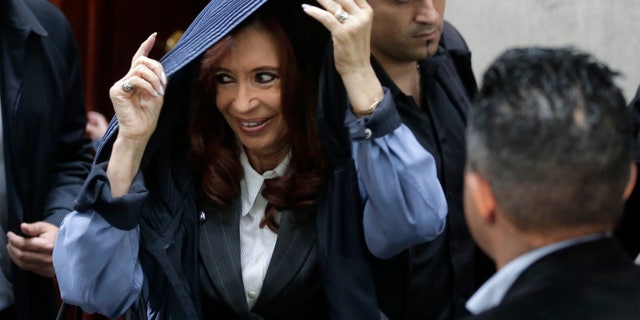 NEWYou can now listen to Fox News articles!
BUENOS AIRES, Argentina (AP) – A judge is seeking to revive an investigation into former President Cristina Fernandez over an alleged cover-up on behalf of Iranians suspected in the 1994 bombing of a Jewish community center in Argentina's capital.
Judge Claudio Bonadio asked a fellow judge, Daniel Rafecas, to turn over the case file and the latter consented, the state news agency Telam reported Tuesday.
Rafecas had refused just days earlier to reopen the case against Fernandez, which he had closed in 2015.
The case against Fernandez, a left-of-center politician who governed Argentina in 2007-2015, was compiled by the late prosecutor Alberto Nisman. He was found shot in the head 19 months ago in his apartment just hours before he was to present the case to Congress. His mysterious death remains unsolved.
Nisman had alleged in a stunning accusation that Fernandez reached a secret deal with the Iranian government to cover up the role of several Iranian officials suspected in the bombing, which killed 85 people.
Bonadio is presiding over an investigation of Fernandez's foreign minister, Hector Timerman, in the case. Nisman alleged that the president and her foreign minister conspired together.
On Tuesday, Fernandez's lawyer accused Bonadio of distorting the facts to try to put his client in jail. "He's begging the issue to try to accuse Cristina of whatever he can," the attorney, Gregorio Dalbon, said in a radio interview.
Neither Bonadio nor Rafecas responded to requests for comment by The Associated Press.
Bonadio is investigating Fernandez for alleged illicit enrichment and for an alleged 2015 government securities fraud scheme that led to a sharp drop in the central bank's foreign currency reserves.
Fernandez has accused Bonadio of pursuing a campaign of political persecution that has the blessing of her successor as president, conservative Mauricio Macri.
Although prosecutors have accused Iranian officials of being involved in the 1994 bombing of the Argentine Israelite Mutual Association, which caused its main building to collapse, no one has been convicted of the crime. For many Argentines, the case has come to symbolize an inept and corrupt judiciary that operates at the whims of politicians and can be bought off.