Jebet, Wang set Asian meet records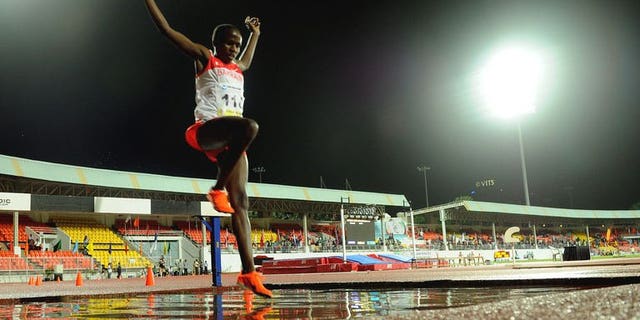 NEWYou can now listen to Fox News articles!
PUNE, India (AFP) – Bahrain teenager Ruth Jebet led from start to finish to win the women's 3,000m steeplechase with a new meet record in the Asian track and field championships in Pune on Friday night.
The 16-year-old outpaced home favourite Sudha Singh to win gold in a time of 9:40.84 seconds, well ahead of the previous meet mark of 9:52.42 seconds by Japan's Minori Hayakari in the previous edition in Kobe in 2011.
Sudha finished second in 9:56.27 seconds, while Pak Kum-Hyang of North Korea claimed the bronze in 10:09.80 seconds.
Wang Zheng of China also set a new meet record in the women's hammer throw with a distance of 72.78 metres, surpassing compatriot Zhang Wen Xiu's effort of 72.07 metres at the 2009 Asian championships in Guangzhou.
China's Liu Tingting collected the silver with a throw of 67.16m, while Japan's Masumi Aya picked up the bronze with 63.41m.
Meanwhile, Emad Hamed Nour of Saudi Arabia won his first Asian medal when he braved the monsoon rain to take the gold in the 1,500m with a time of three minutes, 39.51 seconds.
Mohammad al-Garni of Qatar took the silver in 3:40.75 seconds, while Bilal Mansour Ali of Bahrain finished third in 3:40.96 seconds.
"It was not easy because the competition was tough and the weather was not good," said Nour. "But I had prepared well for the race and am really happy to have won."
Belayneh Betlhem Desalegn brought the United Arab Emirates its first gold medal in the current meet by winning the women's 1,500m ahead of favourite Mimi Betele of Bahrain.
Belayneh finished the race in four minutes, 3.67 seconds, while Betele took the silver in 4:14.04 seconds. The bronze went to Japan's Ayako Jinnouchi in 4:16.73 seconds.
China continued to prosper as Wang Jianan won the men's long jump event and team-mate Jiang Fan coasted home in the men's 110m hurdles.
Ayako Kimura of Japan won the women's 100m hurdles race.
The gold medallists at the meet are assured of a direct entry in next month's world championships in Moscow.