Jamal Khashoggi's son, Mohammed Bin Salman photographed at meeting after activist's death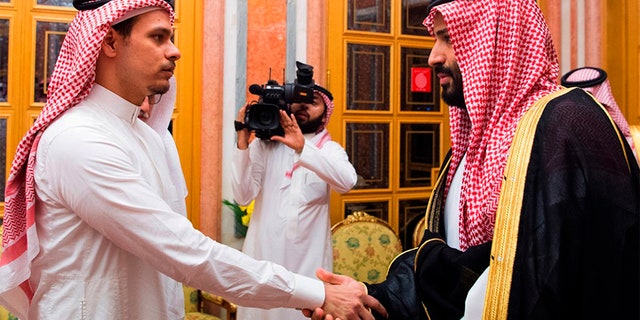 Saudi Arabia has released photos of Jamal Khashoggi's son giving the Kingdom's crown prince an icy stare as the two shook hands Tuesday during a meeting.
The images, released by the Saudi Press Agency, were accompanied by a statement claiming Salah Khashoggi "expressed [his] great thanks to the Custodian of the Two Holy Mosques and His Royal Highness the Crown Prince for their consolation on the death of the deceased."
The son met with King Salman and Mohammed Bin Salman – who is accused of ordering the activist's death – in Riyadh.
Khashoggi, a critic of the Saudi government, was last seen Oct. 2 walking into the Saudi consulate in Istanbul.
Turkish President Recep Tayyip Erdogan said during a speech Tuesday that Saudi officials planned Khashoggi's murder – contradicting the Kingdom's explanation he died in a "fistfight".
In an ironic twist, Turkey, which is currently jailing 73 journalists according to activists, has largely led the charge against Saudi Arabia. Earlier this month, a series of leaks from Turkish officials indicated audio of Khashoggi's killing existed, a development which helped force the Saudi government to investigate the Khashoggi case. But Erdogan made no mention of an audio tape during his speech and no one outside of Turkish intelligence has claimed to have heard such a recording.
Erdogan on Tuesday fell short of blaming bin Salman for Khashoggi's death, however, he kept the pressure on the kingdom with his demands for punishment of all the people involved in the murder.
"Saudi Arabia has taken an important step by admitting the murder. As of now we expect of them to openly bring to light those responsible — from the highest ranked to the lowest — and to bring them to justice," he added.