Jamal Khashoggi search: Turkey, Saudi Arabia conduct joint 'inspection' of consulate as activist last seen nearly 2 weeks ago
Turkish and Saudi officials have arrived at the Saudi consulate building in Istanbul on Monday for a joint "inspection" as speculation continues to grow surrounding his whereabouts of missing activist Jamal Khashoggi.
The Associated Press reported that the team of inspectors arrived Monday afternoon in an unmarked police car and did not make any statements to journalists who had gathered outside. Khashoggi was last seen there nearly two weeks ago and the ongoing search comes one week after Turkish officials demanded access to the consulate.
Saudi Arabia has denied claims that Khashoggi, a critic of the Kingdom's government, was killed inside the building. They have called the accusations "false" and "baseless" and say the 59-year-old left the building on his own after going inside on Oct. 2 to pick up documents related to his upcoming marriage to a Turkish woman. His fiancee was waiting for Khashoggi outside the consulate.
Turkish officials, meanwhile, have made repeated claims that Khashoggi was killed by the Saudis inside the consulate, possibly by a 15-man team allegedly sent to Istanbul to carry out an attack. One of his friends told reporters last week that officials said to him Khashoggi was made to faint and then dismembered, while a Turkish newspaper reported that audio recordings exist confirming the activist's death.
Neither side, however, has released any evidence supporting their statements, fueling suspicion as to who is telling the truth as the days go by without any signs of Khashoggi – dead or alive.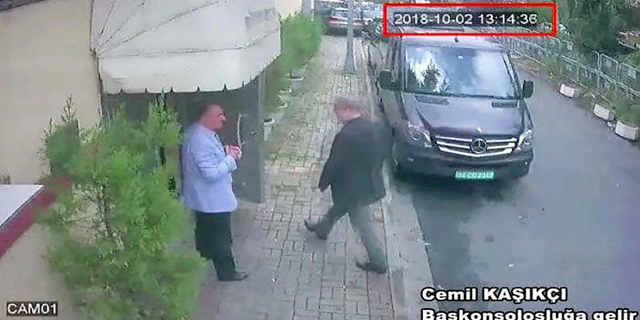 Saudi Arabia on Monday said King Salman called Turkish President Recep Tayyip Erdogan "to thank the President for welcoming the Kingdom's proposal to form a joint working group to investigate the disappearance of Saudi citizen Jamal Khashoggi.
"For his part, President Recep Tayyip Erdogan, the President of the Republic of Turkey, appreciated the brotherly, distinguished, historical and close relations between the two countries and the two peoples, and expressed his keenness to strengthen and develop them," a statement read.
It was a markedly different tone from a statement Saudi Arabia released Sunday, in which they vowed to retaliate with "greater action" if the Trump administration punishes the country amid an international outcry over the Khashoggi case.
KHASHOGGI'S APPLE WATCH MAY HAVE RECORDED EVIDENCE, TURKISH MEDIA REPORTS
Trump has said the U.S. would be "very upset and angry" if the Saudi government was behind Khashoggi's disappearance, and in an interview with "60 Minutes," he clarified that there would be "severe punishment."
"The Kingdom affirms its total rejection of any threats and attempts to undermine it, whether by waving economic sanctions, using political pressure, or repeating false accusations," Saudi Arabia's statement on Sunday said.
The statement did not elaborate. However, a column published in English a short time later by the general manager of the Saudi-owned Al-Arabiya satellite news network suggested Saudi Arabia could use its oil production as a weapon.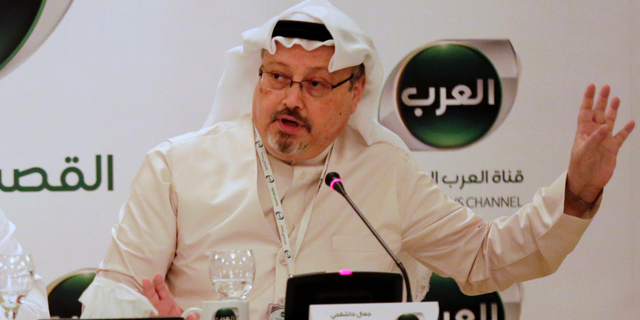 Saudi media followed on from that statement in television broadcasts and newspaper front pages Monday, according to the Associated Press.
The Arabic-language daily Okaz wrote a headline on Monday in English warning: "Don't Test Our Patience." It showed a clenched fist made of a crowd of people in the country's green color.
The Saudi Gazette trumpeted: "Enough Is Enough," while the Arab News said: "Saudi Arabia 'will not be bullied'."
SAUDI RULER ORDERED DETENTION OF KHASHOGGI, REPORT SAYS
The Arab News' headline was above a front-page editorial by Dubai-based real-estate tycoon Khalaf al-Habtoor, calling on Gulf Arab nations to boycott international firms now backing out of a planned economic summit in Riyadh later this month over the alleged killing of Khashoggi.
"Together we must prove we will not be bullied or else, mark my words, once they have finished kicking the kingdom, we will be next in line," al-Habtoor said.
Those who have already pulled out of the investment forum, a high-profile event known as "Davos in the Desert", include the CEO of Uber, a company in which Saudi Arabia has invested billions of dollars; billionaire Richard Branson; JPMorgan Chase & Co. Chief Executive Jamie Dimon; and Ford Motor Co. Executive Chairman Bill Ford.
News that the CEO of Uber, Dara Khosrowshahi, would pull out of the conference drew angry responses across the region. The foreign minister of the neighboring island kingdom of Bahrain, Khalid bin Ahmed Al Khalifa, tweeted Sunday night that there should be a boycott of the ride-hailing app both there and in Saudi Arabia.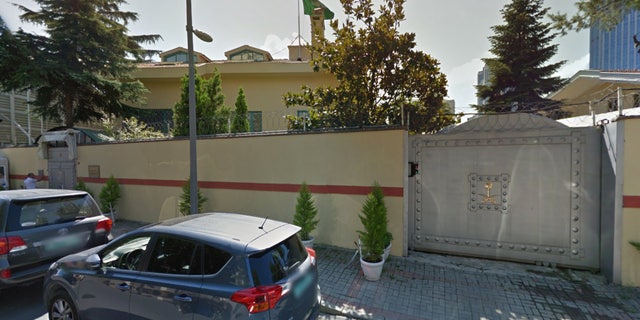 Prince Mohammed, King Salman's son, has aggressively pitched the kingdom as a destination for foreign investment.
But the Saudi stock exchange, only months earlier viewed as a darling of frontier investors, plunged as much as 7 percent at one point Sunday before closing down over 4 percent. On Monday, Riyadh's Tadawul exchange traded up around 2.5 percent.
Concerns appeared to spread Monday to Japan's SoftBank, which has invested tens of billions of dollars of Saudi government funds. SoftBank was down over 7 percent in trading on Tokyo's stock exchange.
Khashoggi has written extensively for the Post about Saudi Arabia, criticizing its war in Yemen, its recent diplomatic spat with Canada and its arrest of women's rights activists after the lifting of a ban on women driving. Those policies are all seen as initiatives of the crown prince.
Fox News' Gregg Re and the Associated Press contributed to this report.