Israeli Prime Minister's Son Receives Heat For Facebook Comments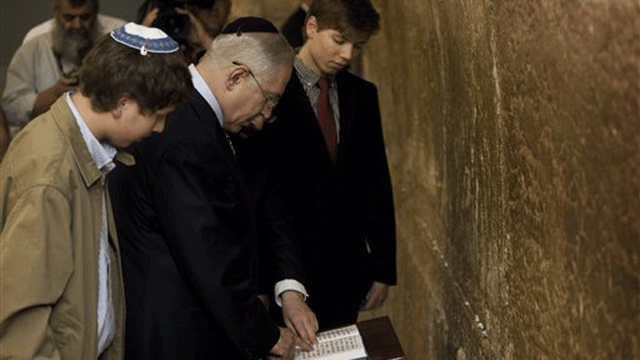 The Israeli prime minister's 19-year-old son posted disparaging comments about Arabs and Muslims on his Facebook page, an Israeli paper reported Friday.
Earlier this year, Yair Netanyahu posted that Muslims "celebrate hate and death," the Haaretz daily reported. After Palestinian assailants entered a West Bank settlement and stabbed five members of an Israeli family to death, he wrote that "terror has a religion and it is Islam."
Yair Netanyahu, the eldest of the prime minister's two sons, is currently a soldier in the Israeli military's media liaison unit.
A lawyer for the Netanyahu family, David Shimron, said the comments were those of a "teenager" and were "taken out of context in an attempt to defame the prime minister and his family," Shimron said in a statement provided to The Associated Press.
According to the Haaretz report, the prime minister's son also ran a Facebook group that called for a boycott of Arab businesses and products, and used obscenities to describe Arabs. He was 17 at the time. The group had a total of 23 members, the paper reported.
In another comment, he wrote that there had never been a Palestinian state and that he hoped "there would never be one."
Haaretz said the comments in question were removed within two hours of the paper's request for a response from the prime minister's representatives.
The younger Netanyahu's Facebook page also included comments on the Israeli version of the TV show Big Brother and a "like" directed at Israeli supermodel Bar Refaeli, alongside photos of himself with world leaders like Bill Clinton and Silvio Berlusconi.
A military spokesman said commanders had spoken to Netanyahu "to clarify to the soldier the military commands, outlining his mistakes, as would be done with any soldier in a similar situation."
Some of the comments predated his military service, the military said.
Shimron, the Netanyahu family's attorney, slammed Haaretz for reporting the comments.
"Bringing them up now is ridiculous and shows the cynical use of the words of a teenager, said in anger, when he could not imagine that someone would someday make use of them," the lawyer wrote.
"Prime Minister Netanyahu and his wife believe in moderation and tolerance, and they respect all people without regard for their religion, origin or nationality and that is how they raise their children," the statement said.
The families of Israeli leaders have typically been kept out of the spotlight, but Netanyahu's family has sometimes drawn media attention in ways that have been a liability for the Israeli leader.
Sara Netanyahu, the prime minister's third wife, has been criticized for allegedly mistreating her household staff and for meddling in state affairs. She has denied the accusations.