Israel rattled by rise in anti-Semitic rhetoric from Egypt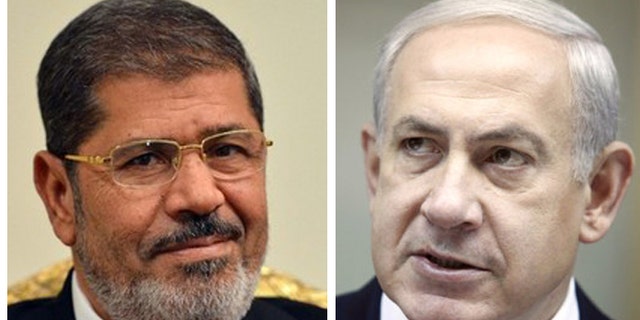 HAIFA, Israel – The new tone coming out of Egypt - punctuated by President Mohammed Morsi mouthing "Amen" to an Imam's call for the destruction of Israel - is rattling residents of the Jewish state, who claim the Obama administration isn't taking the ratcheted-up rhetoric seriously.
Lip reading by the Anti Defamation League and the Middle East Media Research Institute confirmed Morsi's approval of a prayer delivered by influential Imam Futouh Abd Al-Nabi Mansour last Friday, in which he stated, "Oh Allah ... grant us victory over the infidels. Oh Allah, destroy the Jews and their supporters." Israelis already nervous by the rise of Morsi's Muslim Brotherhood say it is the latest example of a disturbing trend.
"There is no question that the rise to power of the Muslim Brotherhood has prompted open expressions of anti-Semitism in ways that were never publicly expressed during the Mubarak period," Efraim Zuroff of the Simon Wiesenthal Center's Israel office told Fox News.com. "The Obama administration is treating this far less seriously than it should be."
[pullquote]
The rise to power this summer of Morsi's Muslim Brotherhood prompted fears that the anti-Israeli, and anti-Semitic party, would be set on a collision course with its near neighbor, jeopardizing the peace treaty which has held firm between the previously warring nations since 1979. But while the rhetoric has been heated, the new Egyptian leader has also proven to be more pragmatic than some expected, thus far placing the national interest ahead of his own and his party's religious ideology.
The party that propelled Morsi to power, however, has made no secret of its contempt for Judaism and Christianity. When Mohammed Badie in 2010 became leader of the Muslim Brotherhood - and consequently President Morsi's spiritual guide - he stepped up his attacks on Israel even while Hosni Mubarak still held an iron grip on power in Egypt.
Determined to recapture Jerusalem and the Al Aqsa (Golden Dome) Mosque, Badie told his followers, "Every Muslim is obliged to wage Jihad in order to restore it (Jerusalem) to Muslim rule". Of the Jews he added, "Allah would free the world of their filth and corruption...Jerusalem will be regained only through Jihad, not through negotiations."
Badie's continued use of inflammatory and racist language against Jews recently prompted the Wiesenthal Center, an internationally renowned human rights organization, to insist that President Obama condemn the Supreme Guide of the Muslim Brotherhood and, if necessary, cut off ties with the organization, until he withdraws his comments. No clear condemnation of the organization has yet been issued by the U.S. administration.
"They are giving Egypt's new leadership tremendous latitude when it comes to things like this, despite the fact that these are the type of issues on which they should be held accountable," Zuroff said. "It was hoped that the Arab spring would bring about a rise in democracy, but that simply hasn't been the case. The undercurrent of Islamism from people who down the line would want to apply Sharia law in its most fundamental sense is a serious cause for concern."
In Jerusalem, the Israeli government is without doubt monitoring developments in Egypt very closely.
"We have no illusions about the Muslim Brotherhood ideology," a senior Israeli diplomatic source told FoxNews.com. "There is a sense of wariness here and an additional injection of uncertainty, but there have been a number of indications since the election that are positive. On security issues there has been co-operation and dialogue, and of course, President Morsi's letter to President Shimon Peres - which they originally denied sending but have recently admitted they did send – is another positive sign."
Morsi's letter, which introduced the new Egyptian ambassador to Israel, referred to Peres as "a great and good friend" and has been ridiculed by some members of the Muslim Brotherhood as a sell-out by their leader. A senior figure in the Brotherhood, Ahmed el-Hamrawi, reportedly resigned earlier this week in protest at Morsi's cordial communication with the Israeli president.
On Thursday, Egyptian intervention was credited with persuading militants in Hamas-controlled Gaza to cease a barrage of rockets into Israel that numbered more than 80 the previous day, striking eight houses and causing injuries to Israel civilians. Israel responded with targeted airstrikes that killed two Palestinian militants. The Muslim Brotherhood is acknowledged as the parent organization and spiritual base from which the radical Hamas movement originally sprang.
"We see the rise of Islamism, but so far it is the Egyptian flag and not the Muslim Brotherhood flag that is noted next to the new president," the Israeli source said. "The impression, so far, is that Morsi is placing Egypt's national interest ahead of an Islamist agenda and seeking to do what is best for his country, a nation with serious economic challenges and security concerns, as was clearly demonstrated by the murder of 16 Egyptian soldiers on the Sinai border this summer by Islamic militants with strong Palestinian/Gaza connections."
But in a related point, on Thursday Israeli Vice Prime Minister Moshe Yaalon, speaking on Israel radio, voiced rare recent criticism of Egypt's efforts to rein in Jihadists in Sinai, saying, "It's a question of Egypt deciding to assert its sovereignty against terrorists... It hasn't happened yet."
Paul Alster is an Israel-based broadcast journalist who blogs at www.paulalster.com and can be followed on Twitter @paulalster