Islamist militia help new Libyan PM seize office amid turmoil, election dispute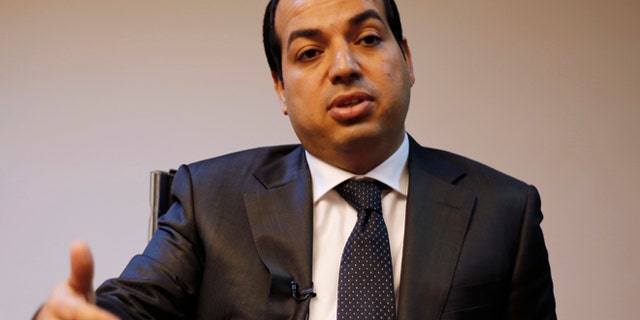 The newly elected Libya prime minister has had the help of an Islamist militia in taking charge of the office.
The country is struggling with a political crisis, with outgoing premier Abdullah al-Thinni refusing to hand over power to Ahmed Maiteg, who was elected by parliament last month, Reuters reported.
Lawmaker Fatma al-Majbari said on her Facebook page that militiamen helped bring Maiteg to government headquarters in central Tripoli late on Monday. Witnesses told Reuters he was escorted by police cars.
Maiteg then held his first Cabinet meeting behind closed doors, said government spokesman Alaa al-Kassab.
Maiteg's adviser, Nadhal Roumidah, says the move came after Maiteg was ordered by Libya's Islamist-dominated parliament to assume his post even though Thinni refused to give up the office.
According to Reuters, Thinni resigned in April but said he got conflicting orders from parliament over the legitimacy of Maiteg's election and would continue to lead until the General National Congress (GNC) assembly resolved the dispute.
There was no immediate comment from Thinni after Maiteg's statement, Reuters reported.
In his first televised statement from the Cabinet, Maiteg condemned the recent violence that has rocked Benghazi.
Benghazi is the birthplace of the uprising that led to the toppling and killing of longtime dictator Muammar Qaddafi in Libya's 2011 civil war, and also the seat of rogue Gen. Khalifa Hifter's campaign.
A former Qaddafi-era army chief, Hifter has rallied support from the country's weakened military, its anti-Islamist politicians, tribes and diplomats, and has vowed to crush the Islamist militias he blames for Libya's instability
Since last weekend, helicopters flown by pilots who sided with Hifter have bombed Islamist militia camps in Benghazi.
The fighting has paralyzed the city, with schools canceling end-of-term exams and hospitals calling for blood donations. A Benghazi medical official, speaking on condition of anonymity because he was not authorized to talk to the media, said the death toll from the recent fighting in the city has reached 22, with dozens wounded.
The Associated Press contributed to this report.