ISIS teen wife bemoans UK's 'unjust' decision to revoke her citizenship
A teen who fled Britain to join the Islamic State complained that it was "unjust" and "heartbreaking" that the British government revoked her citizenship, effectively putting an end to her return to Britain.
Shamima Begum, who left the country in 2015 to join the terror group as a so-called jihadi bride when she was 15 years old, has ignited a debate whether she and her newborn child should be allowed to return after she was found in a refugee camp.
The British government came out against her return, while some other experts have expressed possible legal problems of blocking a citizen's return to the country. But on Tuesday the British government decided to strip Begum of her British citizenship.
TEEN WHO JOINED ISIS GIVES BIRTH IN SYRIA, SAYS PEOPLE SHOULD BE SYMPATHETIC TOWARD HER
Following the decision, Begum told ITV News that the move was unfair to her. "I'm a bit shocked. It's a bit upsetting and frustrating. I feel like it's a bit unjust on me and my son," said Begum, who gave birth to her son on Sunday. The father is Yago Riedijk, an ISIS member from the Netherlands.
"I'm a bit shocked. It's a bit upsetting and frustrating. I feel like it's a bit unjust on me and my son."
"It's kind of heartbreaking to read. My family made it sound like it would be a lot easier for me to come back to the UK when I was speaking to them in Baghouz. It's kind of hard to swallow," she continued.
She added: "I heard that other people are being sent back to Britain so I don't know why my case is any different to other people, or is it just because I was on the news four years ago?"
Begum went on to suggest that her efforts to get into Europe aren't over and she may try to get Dutch citizenship because she's married to a Dutch citizen.
"Another option I might try with my family is my husband is from Holland and he has family in Holland," she said. "Maybe I can ask for citizenship in Holland. If he gets sent back to prison in Holland I can just wait for him while he is in prison."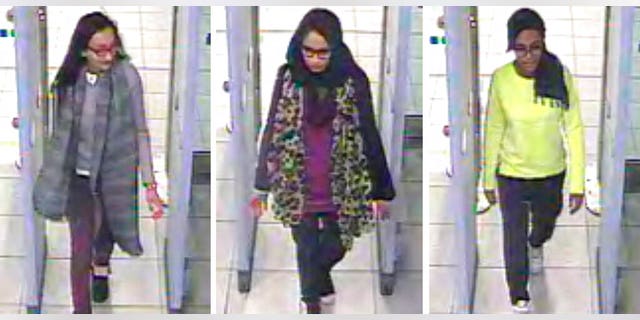 The British government took the rare step to revoke Begum's citizenship due to her Bangladeshi nationality, yet the family's attorney Tasnime Akunjee told the Independent that she only has the British citizenship and "never had a Bangladeshi passport."
He also tweeted the family was "disappointed" by the decision and "all legal avenues" are being considered to challenge the government's decision.
Begum has been under the media spotlight for weeks now and has caused uproar with her comments indicating a lack of remorse for joining the terror group.
"I think a lot of people should have sympathy toward me for everything I have been through. I didn't know what I was getting into when I left," she told Sky News.
When asked whether it was a mistake to travel to Syria, she told the broadcaster: "In a way, yes, but I don't regret it because it's changed me as a person. It's made me stronger, tougher, you know."
"In a way, yes, but I don't regret it because it's changed me as a person. It's made me stronger, tougher, you know."
"I married my husband, I wouldn't have found someone like him back in the UK," she continued. "I had my kids, I did have a good time there. It's just that then things got harder and I couldn't take it any more and I had to leave."
Earlier this week, she also caused uproar after saying the Manchester Arena terror attack that killed 22 people, including young children, was "justified" because of the airstrikes that allegedly killed civilians in Syria.
She told the BBC that while "it was "wrong that innocent people did get killed," she noted that "It's a two-way thing really because women and children are being killed in the Islamic State right now and it's kind of retaliation. Their justification was that it's retaliation so I thought ok that is a fair justification."
Following Begum's spotlight in the media, other female ISIS wives came forward asking to be brought back to their home countries.
ALABAMA-BORN ISIS WIFE WHO REPORTEDLY TOLD AMERICANS TO KILL THEMSELVES NOW BEGGING TO COME HOME
Hoda Muthana, a 24-year-old woman from Alabama, asked for forgiveness and pleaded the American government to bring her back after she was captured by Kurdish forces.
"I would tell them please forgive me for being so ignorant, and I was really young and ignorant and I was 19 when I decided to leave," she told the Guardian when asked if she had a message for American officials.
"I believe that America gives second chances. I want to return and I'll never come back to the Middle East. America can take my passport and I wouldn't mind," she added, noting that she has not been in contact with anyone from the State Department.
She told the newspaper that she was "brainwashed" into joining ISIS years ago and that her last four years with the terrorist group have been a traumatizing experience where "we starved and we literally ate grass."
In 2015, Muthana reportedly operated a Twitter account and once tried to use it to incite Americans to commit acts of violence amongst themselves on national holidays.
Fox News' Greg Norman and the Associated Press contributed to this report.