ISIS hate preacher Anjem Choudary released from UK prison after serving less than half of sentence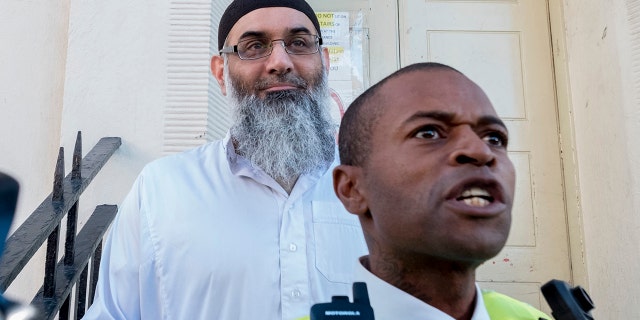 A British preacher who became ISIS' rock star radicalizer in the U.K. -- even working to convert believers behind bars -- was freed from prison Friday after serving less than half of a 5-1/2-year sentence.
Anjem Choudary, 51, who once called the 9/11 hijackers "magnificent martyrs" and who has been connected to several terror attacks in the United Kingdom in recent years, qualified for early release from the high-security Belmarsh prison in southeast London because of time served before his 2016 conviction.
According to local reports, Choudary has not returned to his Ilford home in east London and instead is residing at a bail hostel in Camden. In the U.K., bail hostels are residential units that house ex-convicts in a community.
Choudary is expected to wear an electronic monitoring tag, face a nighttime curfew and is barred from contacting anyone who has been charged with extremist-related offenses unless he receives prior approval from authorities. Additionally, Choudary's name has been added to a U.N. sanctions list, which means the government can freeze his assets and bar him from traveling.
Around 1 p.m. Friday, Choudary held a staged photo-op outside the bail hostel. He waved at cameras briefly but did not speak to reporters – mindful of a condition of his release that prevents him from speaking to the media.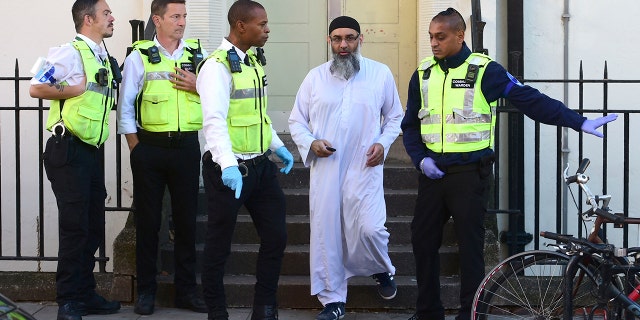 Choudary has been one of the most high-profile faces of radical Islam in Britain since at least 2002, leading groups such as al-Muhajiroun, Islam5UK and Muslims Against Crusades.
He once predicted Britain would become a Muslim country within 30 years.
The father-of-five has never been charged with organizing a terror attack, but he was once described by former Met Police terror chief Richard Walton as having "a huge influence on Islamist extremism in this country," according to the BBC.
"If you look at jihad as a skill, Choudary is very good at it," Ryan Mauro, director of the anti-Islamist Clarion Intelligence Network, told Fox News of Choudary in 2017. "He is as likable as you can be and still be a jihadist."
Mauro continued: "He cites Islamic scripture left and right, so he's very good at answering tough questions in a way that doesn't sound mean-hearted or crazy, so it's as appealing a way to present violent jihad as you can get. He's also very good at promoting groups like ISIS without giving you the one-sentence soundbite that allows you to incriminate him."
Several people who attended Choudary's past rallies and events have been convicted of violent attacks in the U.K., including the pair of Al Qaeda-inspired killers who ran over British soldier Lee Rigby and stabbed him to death in 2013.
Until he was charged under the Terrorism Act, the firebrand preacher gained attention for headline-grabbing activities that provoked outrage -- but stayed on the right side of the law.
Choudary ran into trouble in 2014 after his name appeared on an oath circulating online that declared the legitimacy of the "proclaimed Islamic Caliphate State." Choudary said the oath was made without his knowledge.
While in prison, Choudary refused to take part in any de-radicalization courses or exercises and also refused opportunities to speak to mainstream religious leaders and other experts who have successfully turned around the lives of other extremists, the BBC reported.
Choudary had been held at Frankland high-security prison in Durham but was moved back to London ahead of his release.
A former head of counter-terror policing, Mark Rowley, told the BBC that, while Choudary was a "significant arrest," it would be prudent not to overstate his significance.
"At the end of the day, he is a pathetic groomer of others," Rowley said. "That is what he has done in the past. He is not some sort of evil genius we all need to be afraid of."
Before his release Friday, Prime Minister Theresa May said authorities have "significant experience in dealing with such offenders."
Choudary is expected to remain in the hostel for up to six months before he's allowed to return to his family home.
Fox News' Cody Derespina and the Associated Press contributed to this report.