Isaac downgraded to tropical storm, still poses danger for Caribbean islands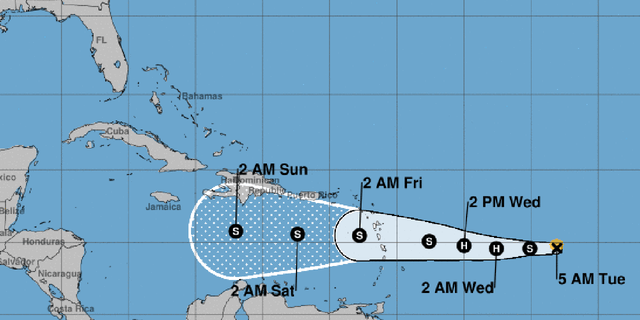 NEWYou can now listen to Fox News articles!
Hurricane Isaac -- one of three hurricanes churning in the Atlantic on Monday -- slowed and was downgraded to a tropical storm early Tuesday morning, when scientists recorded Isaac's wind speed at 70 mph.
Little to no change is expected in the next few days for the storm, which had become the 5th hurricane to form during the 2018 Atlantic season. Though Isaac was soon downgraded, it is forecast to be at or near hurricane strength as it approaches the Lesser Antilles, the National Hurricane Center said.
As of 5 a.m. Isaac was about 880 miles east of the Lesser Antilles and forecast to move across the islands and into the eastern Caribbean Sea on Thursday, the Miami-based center said.
"Isaac is expected to produce total rainfall accumulations of 2 to 4 inches with isolated amounts near 6 inches the Leeward Islands late this week, with 1 to 2 inches anticipated across the Windward Islands," the advisory said.
Meanwhile, the National Hurricane Center is closely monitoring Hurricane Florence, which is barreling toward the Carolinas and the Mid-Atlantic states. The dangerous Category 4 storm is expected to make landfall on Thursday.