Is Hosting The World Cup Worth It? (No.) So Why Do It? (Good Question.)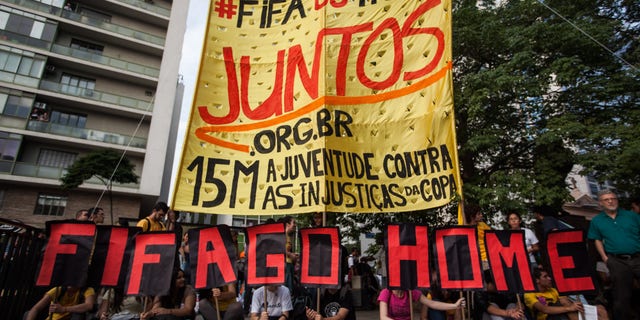 NEWYou can now listen to Fox News articles!
The 2014 FIFA World Cup has hit its midway point, and the host nation Brazil is hoping for success both on and off the field. But while the country's rabid soccer fans expect nothing less than victory in the tournament, much of the population is up in arms over the finances behind hosting the world's largest sporting event.
This World Cup is the most expensive one yet, with estimates of Brazil's total expenditures hovering around $14 billion—including more than $3.6 billion spent on 12 new and renovated stadiums. That's right around three times the estimated price tags for the 2010 World Cup in South Africa, which cost a total of $3.9 billion with $1.3 billion in stadium construction work.
Brazilians became disillusioned by the ever-escalating costs, rumored corruption among the governing bodies and how it all contrasted with their country's high rate of poverty.
As with any major sporting event, economists disagree on the long-term economic benefits of hosting the World Cup. Projected gains to the Brazilian economy vary from as much as $13.6 billion to well, not to put too fine a point on it, $0. Nothing, nada, niente, nil.
Boosters, especially those associated with hosting committees, often point to the boost in infrastructure and the benefit of tourists coming and spending money. Skeptics argue that any economic rewards are likely to be short-term gains, as much of the tourist spending goes to large multinational corporations and does not reach the local economy.
Critics also point out that at least one of the stadiums will remain empty after the last ball is kicked. The shiny new arena in the remote Amazonian city of Manaus is reported to have cost $270 million to build. It will be used for four games during the tournament, and after that, well, got any suggestions? There isn't a local team that can use it after the Cup is done.
Long-term economic implications are nearly impossible to project, but here is what we do know: There will be an influx of money from spending by tourists during these four weeks that the tournament lasts. Brazil's tourism ministry used surveys, calculations based on the average spending of tourists at past tournaments and other metrics to project visitor spending for the 2014 World Cup.
Those projections see an estimated 3.7 million domestic and international tourists spending approximately $11.1 billion.
Of Brazil's population of almost 200 million, about 32 million are living in poverty. Over the course of the World Cup, these 32 million people will combine to spend less than $1.3 billion.
In other words, a group about one-ninth the size, staying in hotels and buying souvenirs, will spend about nine times more than the other—who are just trying to survive.
Is it any wonder then that reckless Cup spending that has fueled protests and riots across the country over the last year?