Irene Hits Land in NJ, Moving Towards New York City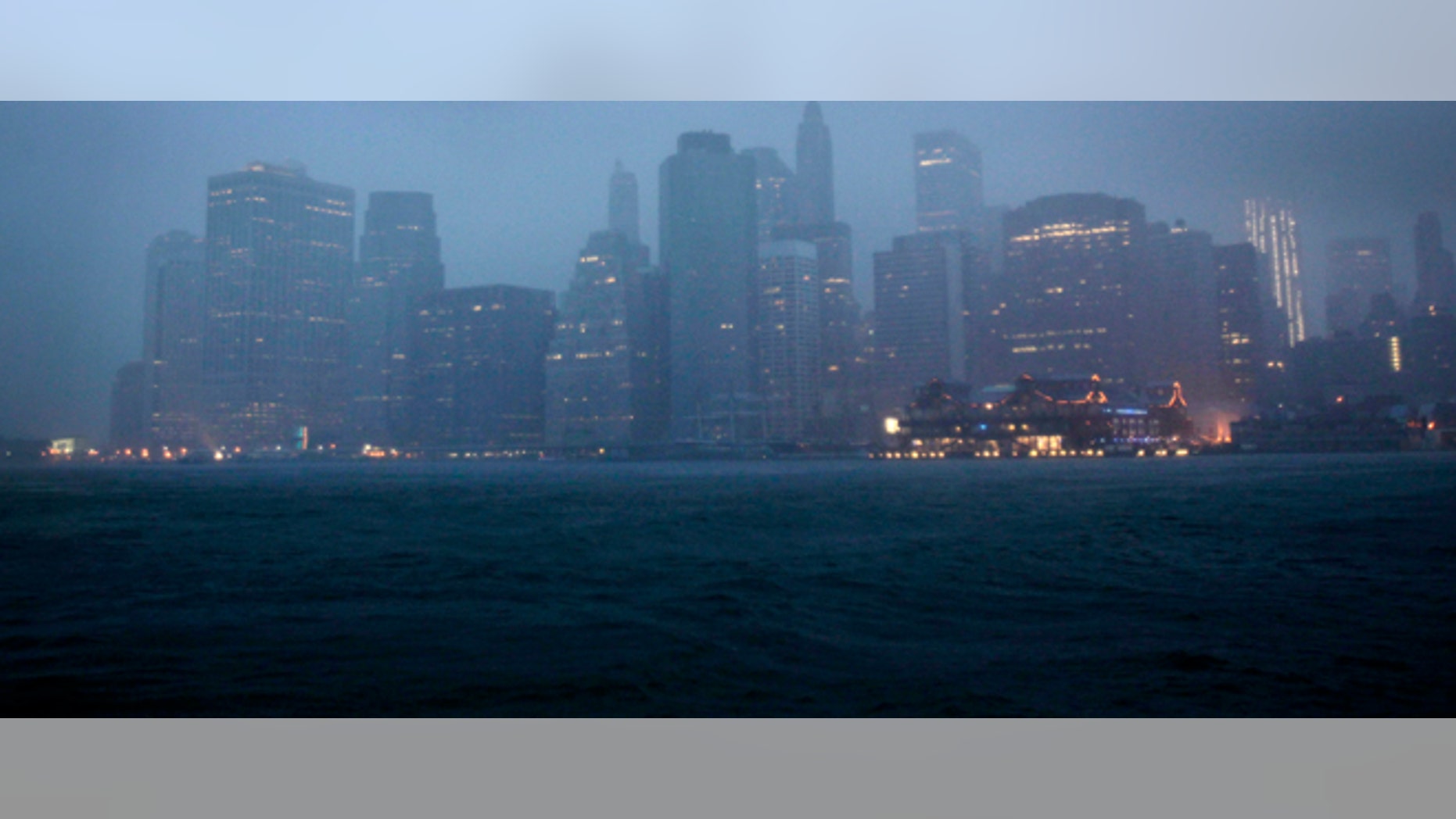 The National Hurricane Center said the center of Hurricane Irene lumbered onto the New Jersey Shore Sunday morning on its way toward barreling into New York.
The center of the huge storm reached land near Little Egg Inlet, about 85 miles south-southwest of New York, at 5:35 a.m. The eye previously reached land Saturday in North Carolina before returning to the Atlantic, straddling the East Coast as it flooded towns, killed at least eight people and knocked out power to more than 3 million homes and businesses.
Broadway, baseball and most other things were shuttered in New York, where the transit system stopped because of weather for the first time in history. Mayor Michael Bloomberg warned late Saturday that no matter whether residents of low-lying areas heeded his calls to evacuate, "The time for evacuation is over. Everyone should now go inside and stay inside."
Hours before the storm's center was to reach New York, a 58 mph wind gust hit John F. Kennedy International Airport and a storm surge of more than 3.5 feet was reported in New York Harbor.
National Weather Service meteorologist Ashley Sears said a storm surge of 4 to 8 feet was expected to rush in just before the eye crosses land. Wind and rain should start diminishing by midafternoon, but if the storm surge deluges Lower Manhattan, the water could linger for hours or even a day.
By Sunday morning, the storm had sustained winds of 75 mph, down from 100 mph on Friday. That's just 1 mph more than the 74 mph minimum for a Category 1 hurricane, the least threatening on a 1-to-5 scale.
The total extent of damage Saturday was unclear, but officials and residents in some areas were relieved to find their communities with relatively minor problems. Forecasters said the storm remained capable of causing ruinous flooding with a combination of storm surge, high tides and 6 to 12 inches of rain.
"Everything is still in effect," National Hurricane Center spokesman Dennis Feltgen said. "The last thing people should do is go outside. They need to get inside and stay in a safe place until this thing is over."
Tornadoes were reported in Virginia, Maryland and Delaware, and several warnings were issued elsewhere, including New York and Philadelphia.
Irene caused flooding from North Carolina to Delaware, both from the seven-foot waves it pushed into the coast and from heavy rain. Eastern North Carolina got 10 to 14 inches of rain, according to the National Weather Service. Virginia's Hampton Roads area was drenched with at least nine inches, with 16 reported in some spots.
More than one million of the homes and businesses without power were in Virginia and North Carolina, the first states in the path of Irene's eye. Then the storm knocked out power overnight to hundreds of thousands in Washington, D.C., Maryland, Delaware, Pennsylvania, New Jersey, the New York City area and Connecticut.
In Virginia, three people were killed by falling trees and about 100 roads were closed. Emergency crews around the region prepared to head out at daybreak to assess the damage, though with some roads impassable and rivers still rising, it could take days.
Some held out optimism that their communities had suffered less damage than they had feared.
"I think it's a little strong to say we dodged a bullet. However, it certainly could have turned out worse for the Hampton Roads area," said National Weather Service meteorologist Mike Montefusco.
In Virginia Beach, the city posted on Twitter late Saturday that initial reports were promising, with the resort area suffering minimal damage. Ocean City, Md., Mayor Rick Meehan tweeted this synopsis: "Currently in OC sustained winds of 53mph and gust to 80mph. Rain total 11 inches. Scattered power outages. No reports of major damage!"
Charlie Koetzle was up at 4 a.m. on Ocean City's boardwalk. Asked about damage, he mentioned a sign that blew down.
"The beach is still here, and there is lots of it," he said. "I don't think it was as bad as they said it was going to be."
In North Carolina, where at least two people were killed, Gov. Beverly Perdue said Irene inflicted significant damage along the North Carolina coast and some areas were unreachable.
"Folks are cut off in parts of North Carolina, and obviously we're not going to get anybody to do an assessment until it's safe," she said.
Television coverage showed evidence of damage across eastern North Carolina with downed trees and toppled power lines.
A falling tree also killed one person in Maryland. A surfer and another beachgoer in Florida were killed in heavy waves caused by the storm.
The storm arrived in Washington just days after an earthquake damaged some of the capital's most famous structures, including the Washington Monument. Irene could test Washington's ability to protect its national treasures and its poor.
A nuclear reactor at Maryland's Calvert Cliffs went offline automatically when winds knocked off a large piece of aluminum siding that came into contact with the facility's main transformer late Saturday night. An "unusual event" was declared, the lowest of four emergency classifications by the Nuclear Regulatory Commission, but Constellation Energy Nuclear Group spokesman Mark Sullivan said the facility and all employees were safe.
Near Callway, Md., about 30 families were warned that a dam could spill over, causing significant flooding, and that they should either leave their homes or stay upstairs. St. Mary's County spokeswoman Sue Sabo said the dam was not in danger of breaching.
Irene made its official landfall just after first light near Cape Lookout, N.C., at the southern end of the Outer Banks, the ribbon of land that bows out into the Atlantic Ocean. Shorefront hotels and houses were lashed with waves, two piers were destroyed and at least one hospital was forced to run on generator power.
Across the Eastern Seaboard, at least 2.3 million people were under orders to move to somewhere safer. Thousands went to shelters and many found other places to stay, but some stayed put.
Annette Burton, 72, was asked to leave her Chester, Pa., neighborhood because of danger of rising water from a nearby creek. She said she planned to remain in the row house along with her daughter and adult grandson, although with a wary eye on the park across the street that routinely floods during heavy rains.
"I'm not a fool; if it starts coming up from the park, I'm leaving," she said. "It's the wind I'm more concerned about than anything."
As the storm's outer bands reached New York on Saturday night, two kayakers capsized and had to be rescued off Staten Island. They received summonses and a dressing-down from Bloomberg, who said at a press conference that they recklessly put rescuers' lives at risk.
Irene was the first hurricane to make landfall in the continental United States since 2008, and came almost six years to the day after Katrina ravaged New Orleans on Aug. 29, 2005. Experts said that probably no other hurricane in American history had threatened as many people.
Airlines said 9,000 flights were canceled, including 3,000 on Saturday. The number of passengers affected could easily be millions because so many flights make connections on the East Coast.
In New York, authorities undertook the herculean job of bringing the city to a halt. The Metropolitan Transportation Authority shut down its subways, trains and buses for a natural disaster for the first time, a job that began at noon Saturday and took into late that night to complete.
On Wall Street, sandbags were placed around subway grates near the East River because of fear of flooding. Tarps were spread over other grates. Construction stopped throughout the city, and workers at the site of the World Trade Center dismantled a crane and secured equipment.
The city was far quieter than on an average Saturday. In some of the busiest parts of Manhattan, it was possible to cross a major avenue without looking, and the waters of New York Harbor, which might normally be churning from boat traffic, were quiet. About 370,000 people living in low-lying areas of the city, mostly in Lower Manhattan, Brooklyn and Queens, were under orders to clear out.
New York has seen only a few hurricanes in the past 200 years. The Northeast is much more used to snowstorms — including a blizzard last December, when Bloomberg was criticized for a slow response.
Based on reporting by the Associated Press.
Follow us on twitter.com/foxnewslatino
Like us at facebook.com/foxnewslatino