Iran's release of 11 political prisoners sparks both hope and cynicism as UN meeting looms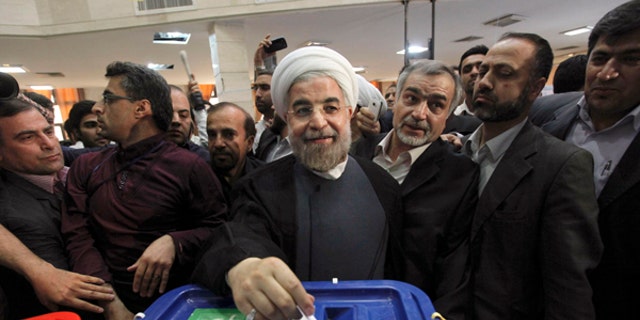 In its most symbolic conciliatory gesture yet, the new Iranian regime released at least 11 political prisoners today, including two renowned human rights advocates, according to government sources.
The move, likely intended to signal a new, moderate approach from Tehran, comes just before new President Hassan Rowhani's upcoming address to the UN General Assembly. But with jails packed with dissidents and religious prisoners, including American citizen Saeed Abedini, it may take more than the release of 11 people and even a pledge not to pursue nuclear weapons to convince the world of a shift in Iranian policy.
Among the freed prisoners were eight women and three men, including internationally-recognized human rights lawyer Nasrin Sotoudeh. Sotoudeh, a mother of two, was handed a six-year sentence in 2011 on national security charges. She was an active and vocal human rights attorney known for taking on high-profile political and human rights cases.
[pullquote]
In his election campaign, Rowhani, who ran as a 'moderate' candidate, promised to release political prisoners. With the country reeling under international sanctions imposed because of its rogue nuclear program, Rowhani appears keen to distance himself from his hardline predecessor, Mahmoud Ahmadinejad. Experts on the region are tempering their optimism.
"While the releases are a positive development, they must be a first step that paves the way for the release of all prisoners of conscience held solely because they peacefully exercised their rights," said Hassiba Hadj Sahraoui, Middle East and North Africa deputy director at Amnesty International.
There are currently over 800 political prisoners still being held in Iran, including journalists, photographers, bloggers, lawyers, human rights activists and Christians and Bahais held for their faith.
Abedini, an Iranian-born U.S. citizen who lives near Boise, has been held in Tehran's infamous Evin prison for almost a year because of his Christian faith while his family and U.S.-based attorneys work to mobilize international support.
Iran and the U.S. are also currently at odds over Syria, where Iran backs embattled President Bashar al-Assad. Yet President Obama openly acknowledged last weekend that he has exchanged letters with the new Iranian president, and Obama has pledged since his 2008 presidential campaign to engage Iran in one-on-one talks over the nation's contentious nuclear weapons program.
Iran's history of diplomatic mendacity makes it difficult to trust its motives, according to critics. Following the news of the releases today, Israel accused the Iranian regime of utilizing "deception and concealment" in order to play out the clock for its nuclear weapons agenda, unconvinced that Rowhani will actually steer away from the hardline stance of his predecessor or the current Supreme Leader Ali Khamenei, who holds the most power.
During last year's General Assembly, Israeli Prime Minister Benjamin Netanyahu drew his own line for the Iranian regime's nuclear proliferation program.
"For nearly a decade, the international community has tried to stop the Iranian nuclear program with diplomacy," Netanyahu thundered. "That hasn't worked.
"Iran uses diplomatic negotiations as a means to buy time to advance its nuclear program," said Netanyahu, who told his cabinet yesterday that he is postponing his own address at the UNGA meeting to have a meeting with Obama at the White House over stopping Iran's nuclear program.