Iran's incoming president stokes hope, cynicism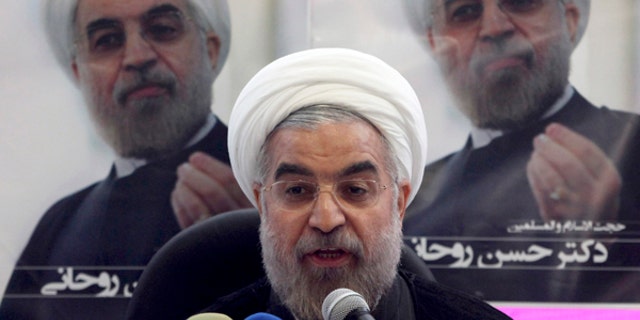 NEWYou can now listen to Fox News articles!
As a new president prepares to take the reins in Iran, there is both hope the pariah nation will show a new willingness to help ease nuclear tensions, and cynicism that the new boss will resemble his predecessor.
President-elect Hassan Rowhani takes office Sunday, succeeding Mahmoud Ahmadinejad. Voters propelled him to office from a field in which he was the only self-described moderate, which buoyed hopes stalled talks about the county's nuclear weapons program could resume. Indeed, Rowhani has pledged domestic reforms and more international engagement.
But with the religious clerics holding the real power in Tehran, some doubt Rowhani, 64, can change much – even if he wants to.
[pullquote]
"The truth of the matter is that no candidate can make any real changes for at least two years," Rad, a 39-year-old computer engineer living in Tehran told FoxNews.com. "We have to give Rowhani a chance to fix the problems that have been created over the last eight years."
Following Rowhani's June 14 election victory, the White House has declined to publicly back tough new sanctions on Iran approved by Congress. Sanctions already in place have decimated Iran's economy, leaving many residents eager to elect a president who will engage the West.
"Rowhani was my choice and I voted for him for many reasons," said Sarah, a 26-year-old medical student and blogger. "Rowhani is both moderate and diplomatic. I would say this is why he was elected. He got both the reformist votes and the moderate ones. I think he will make some significant changes."
But skeptical U.S. officials note Tehran's failure to respond to President Obama's 2009 offer of improved relations, and its continued enrichment of uranium that can be used to make nuclear weapons.
"Actions will define how our policy moves," a senior official told Reuters. "There needs to be action which backs up that promise to engage."
Rowhani, who studied theology and law and has a doctoral degree from Scotland's Glasgow Caledonian University, won 50.7 percent of the vote in the election, garnering three times the number of votes as his closest challenger. During his campaign, he vowed to prepare a "civil rights charter," restore the economy and improve relations with the West.
The U.S. and Iran have not had diplomatic relations since 1979, when Iranian students stormed the U.S. embassy and held 52 hostages for 444 days, freeing them the same day President Reagan was inaugurated.
While a new president in Iran is unlikely to usher in new diplomatic relations, especially given Iranian Supreme Leader Ayatollah Ali Khamenei's hold on absolute power, some see the very fact that Rowhani was allowed to run and win as a sign Khamenei may be easing his hardline stance.
But Iran's student news agency reported Friday that Rowhani had called Israel a "wound" on the Muslim world that "needs to be removed." The comment raised fears that Rowhani may be every bit the firebrand Ahmadinejad was, although Iran's state-run TV later said Rowhani had been misquoted.