Iran Demands U.S. Propose Prisoner Swap for Three U.S. Hikers Labeled 'Spies'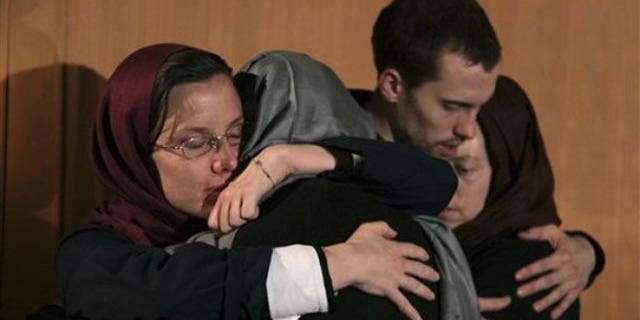 Iran said on Sunday that the three American hikers arrested last July near the Iraq border were spies and demanded the U.S. propose a prisoner swap to secure their release, Reuters reports.
Iran's Intelligence Minister Heyder Moslehi called on the U.S. to make a humanitarian gesture to Iranians before there can be any talk of an eventual exchange for three detained hikers, according to a report Sunday by the ISNA news agency.
"What Iran did was a humanitarian gesture," Moslehi said of a brief visit to Tehran by the mothers of Shane Bauer, 27, Sarah Shourd, 31, and Josh Fattal, 27, Americans held for nearly 10 months.
The three Americans were detained on July 31 last year after crossing Iran's border while on a hiking trip in northern Iraq's Kurdistan region. Washington says they are innocent and should be released.
"We are waiting for the United States to make a humanitarian gesture as well, before there can be any talk of an exchange," said Moslehi. "As for the three Americans, the fact that this is a case of espionage is known."
Tehran is seeking the release of several Iranians held in the United States, but the ISNA report was the first talk by the Islamic republic of a possible prisoner exchange.
The U.S. mothers arrived in Iran on Wednesday and met the three for teary-eyed reunions in a Tehran hotel over the next two days before flying out again late on Friday without their children,who were taken back to jail.
During their emotional first reunion with their children on Thursday, the mothers had appealed for the trio's release as a "humanitarian gesture" from Iran.
Sarah Shourd's mother Nora said on her return to the United States that "the pain of having to leave Tehran without our children is almost more than we can bear."
She said the mothers had spent 10 hours with their children, including several hours in private, and that the three were being "well-treated" and "in reasonable health."
"Nonetheless, the emotional strain on them and the loneliness is very difficult. And they told us they just cannot understand why they are still in jail," she said.
Despite Moslehi and Tehran public prosecutor Abbas Jafari Dolatabadi saying the three hikers face espionage charges, Foreign Minister Manouchehr Mottaki has said they are accused of illegal entry to the Islamic republic.
Newscore contributed to this report