Invigorated By Ferguson, South L.A. Holds Protests Against Police Killing Of Father Of Three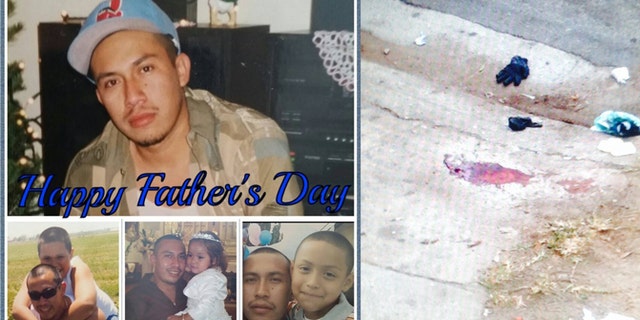 NEWYou can now listen to Fox News articles!
A week before an unarmed black teen in Ferguson, Missouri, named Michael Brown was shot by a police officer, an unarmed Latino, Omar Abrego, was beaten by members of the Los Angeles Police Department in South L.A.
Abrego, a 37-year-old father of three, was on his way home from work at about 5:45 pm on Aug. 2, when he was pulled over in his car by police in front of his home. That's where, witnesses say, at least two members of the Los Angeles Police Department beat him for 10 minutes as he laid in a pool of his own blood.
"We need to come together and stop fighting each other because you're African American, or Latino. Police are doing this to Latinos and African Americans, they aren't doing this to white people."
He died about 12 hours later in the hospital.
"You can hear him yelling, 'No,' and then they hit him in the head with a baton," an eyewitness who asked not to be named for fear of police retaliation, told Fox News Latino.
Then Abrego stopped moving, the witness claimed. "The police can say what they want, but he died there."
The witness described the police officers as Latinos. Cell phone video taken at the scene appears to show Abrego, dressed in white, bleeding from his head while two police officers are holding him to the ground.
Nine days later and just blocks away from where Abrego was pulled over, LAPD officers shot and killed Ezell Ford, a 25-year-old autistic man while walking down the street. Police Chief Charles Beck admits there are still more questions than answers about the incident, which caused thousands of protesters to hit the streets on Sunday.
Now, three weeks after Abrego's death, empowered by the unrest in Ferguson, the Abrego family is calling for justice.
For the last three days, a few hundred protesters from the community joined Abrego's 14-year-old son, wife and brothers in calling for justice and the arrest of the cops responsible for his death.
"I want them to see that they took Omar's life, and they took part of our lives with him," Yanelly Abrego, Omar's sister, told FNL. "Now his kids have to grow up without a father."
The LAPD's Gang Enforcement unit says they stopped Abrego after they were notified by a "community member" about a suspicious white vehicle in the area. They said Abrego was speeding, driving "erratically," almost hitting a pedestrian on the sidewalk and, when they pulled him over for a traffic stop, he got out of his car and fled. That's when police got into a "physical altercation" with Abrego and arrested him.
"The suspect sustained a laceration and a rescue ambulance was requested," an LAPD news release read.
But according to witnesses and preliminary evidence gathered by a private investigator hired by the Abrego family, that's not what happened.
Based on interviews with nine witnesses, private investigator Tawni Tyndall, who is working for the family, said that it wasn't until Abrego, who had no criminal history, pulled up in front of his home that police turned on their lights and got out of the car with guns drawn.
Abrego, jumped out of the back of his vehicle, ran towards his home and after a few feet he was tackled by police and beaten over the course of the next 10 minutes. Abrego was not fighting back.
Witnesses say two ambulances arrived on scene. One helped an injured officer, who broke his hand in the altercation, while Abrego laid on a gurney.
He was later put into an ambulance with no lights or sirens on.
The family was denied access to Abrego while he was in ICU on the grounds that he was in police custody. Abrego died at 5:10 a.m., but the family says they weren't notified of his death until six hours later.
They didn't get to see his body until they laid him to rest two weeks after the incident.
"It's just unbelievable they were not given an opportunity to see the victim and a chance to say goodbye," Tyndall told FNL, speculating that the police may not have wanted the family to see the extent of his injuries from the beating.
The police have not released his autopsy report.
"From what I've heard and seen, his death is completely unwarranted," Tyndall, who since 2009 has worked on 25 wrongful death and excessive use of force suits against the LAPD, said.
Tyndall's job is to gather witness testimony and evidence that the Abrego's attorney could use to build a case against the LAPD. But that job is made more difficult because many people in the predominantly Latino and black neighborhood are afraid to speak out.
Witnesses report that police officers at the scene asked to take their cell phones.
"Some people fear repercussions," Tyndall explained, adding that one witness is thought to have a complete recording of the incident. "They have businesses at their home. They say the police have been driving by a lot. There's some real fear the police is going to come and get them."
Witness intimidation by the police is partly why marches for Abrego and Ford are important, according to By Any Means Necessary (BAMN), the group organizing protests demanding that the officers involved by brought to justice.
"The LAPD is the biggest gang in LA—they are the ones with the guns," Hoku Jefferey, the Los Angeles Coordinator for BAMN said. "We are not trying to convince the community, we are trying to raise their spirit to fight back. The police count on people being too afraid to come forward."
The Abrego family said Omar never had trouble with the law and was the main caregiver to his three kids, often working seven days a week as a delivery man for Ontrack. They hope the community will stand strong against police brutality.
"We need to come together and stop fighting each other," Yanelly told FNL. "Police are doing this to Latinos and African-Americans, they aren't doing this to white people."
The family now awaits the coroner's report while the LAPD says the investigation will be reviewed by the Chief of Police and the Board of Police Commissioners. Meanwhile, the names of the officers involved have yet to be released.
Tyndall said it could be at least two years before the investigation is concluded, and police officers very seldom get fired or serve jail time as a result of shootings like those of Michael Brown and Omar Abrego. Most cases end with a settlement and, sometimes, changes made to departmental policy.
"The only way to make a change to the department is through the wallet," said Tyndall, who emphasizes she's not anti-police. "If there aren't lawsuits, then they really don't care."
She believes the LAPD should have police officers wear cameras and audio to help hold them accountable.
The community's frustration would be eased, Jeffrey said, if police departments released the names of the officers involved in these incidents and treated them as suspects, just as they would a civilian accused of killing a policeman.
"A badge is not a license to kill," Jeffrey said. "They think it is."
Omar's sister Yanelly believes the community should put its tense past between the black and Latino community behind it and fight for justice.
"We need to come together and stop fighting each other because you're African American, or Latino. Police are doing this to Latinos and African Americans, they aren't doing this to white people."
Follow us on twitter.com/foxnewslatino
Like us at facebook.com/foxnewslatino