India court clears Srinivasan to contest BCCI vote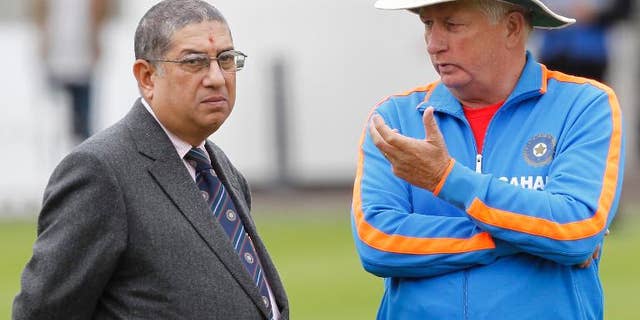 New Delhi (AFP) – India's Supreme Court on Friday cleared the country's cricket chief N. Srinivasan to seek a third term in his role at an election this weekend, but barred him from taking charge immediately after the vote.
A cricket association in eastern Bihar state had petitioned the court to stop Srinivasan from contesting the vote for president of the Board of Control for Cricket in India (BCCI) because his son-in-law was charged in a corruption scandal.
Srinivasan's son-in-law Gurunath Meiyappan is among several officials, players and bookmakers charged with cheating and criminal conspiracy in a spot-fixing scandal that has rocked the Indian Premier League, a Twenty20 tournament run by the BCCI.
"Why he is in charge if his son-in-law has been charge-sheeted," the Press Trust of India quoted the judge as asking Srinivasan's lawyers.
"Why are you so keen to be elected? The elections can take place, but he cannot assume charge until the matter is decided."
Srinivasan had temporarily stepped aside as president in June when he handed interim charge to Jagmohan Dalmiya, a former head of the International Cricket Council.
However he has continued to pull the strings behind the scene and ensured on Wednesday that his bete noire, IPL founder Lalit Modi, was banned for life from the sport.
The 68-year-old, who has headed the BCCI since 2011, is widely expected to be elected unopposed for another year when the elections take place in his home city of Chennai on Sunday.
Srinivasan has distanced himself from his son-in-law, saying he himself has not been blamed or charged in the scandal.
Meiyappan was the team principal of the Chennai Super Kings franchise, which is owned by the India Cements conglomerate run by Srinivasan.
The Bihar association, which is not part of the BCCI, had opposed Srinivasan's return since another court had termed as "illegal" an internal probe panel that absolved Srinivasan, Meiyappan, India Cements and other IPL officials of wrongdoing.
The petitioner, Aditya Verma, said the court's interim order should convince BCCI members to keep Srinivasan out.
"Would they want to elect someone who has no powers to discharge any function?" Verma asked reporters. "I am very happy with the Supreme Court ruling."
The BCCI chief is widely regarded as the most powerful man in world cricket due to India's vast television audience which enables the board to generate almost 70 percent of the game's revenues and allows India to have its way in major decisions.
International news organisations, including Agence France-Presse (AFP), have suspended their on-field coverage of matches hosted by the BCCI since last year after the board imposed restrictions on picture agencies.