Hong Kong International Airport cancels all flights, China compares protest to 'terrorism'
Hong Kong International Airport — one of the busiest such facilities in the world — canceled all flights Monday after a swarm of pro-democracy demonstrators occupied the main terminal. Chinese authorities likened the protest to "terrorism."
A crowd of thousands "seriously disrupted" operations at the airport, officials said in a statement. Only flights that were already boarding or had been cleared for landing were allowed to use the airport's runways. All other flights were canceled.
US, CHINA SPAR OVER HONG KONG AFTER 'THUGGISH REGIME' REMARKS AS ACTIVISTS LAUNCH LATEST AIRPORT PROTEST
For more than two months, Hong Kong has experienced mass protests urging democratic reforms and an investigation into police conduct.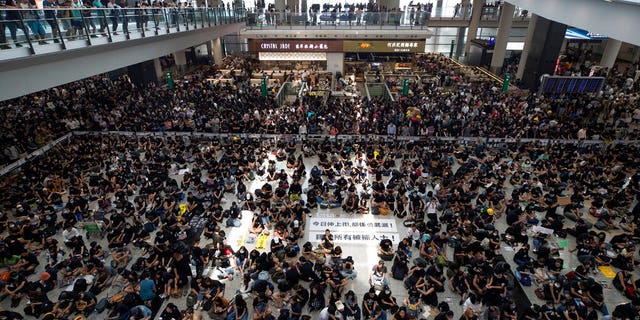 The city's government, which is supposed to be separate from communist China's influence, introduced an extradition bill that critics say would threaten the liberties awarded to the city and would allow people to be extradited to face the law in mainland China.
The bill was temporarily suspended following protests. The demonstrations, however, morphed from an uproar over the specific extradition proposal into a more general demand for greater freedoms and a check on the perceived use of excessive force by the authorities.
China on Monday used the strongest language yet to vilify the participants, with the Cabinet's Hong Kong and Macao Affairs Office in Beijing saying the protests are "beginning to show the sprouts of terrorism" and constitute an "existential threat" to the population of Hong Kong.
"One must take resolute action toward this violent criminality, showing no leniency or mercy," said a statement from spokesperson Yang Guang. "Hong Kong has reached an inflection point where all those who are concerned about Hong Kong's future must say 'no,' to lawbreakers and 'no' to those engaged in violence."
HONG KONG FACES WORST CRISIS IN 20 YEARS, SENIOR CHINESE OFFICIAL SAYS
Earlier Monday, Hong Kong police showed off water cannons that could be deployed in the case of future demonstrations, a development which Amnesty International has warned could lead to serious injuries if the canons are misused within the densely-populated city's confined spaces.
Hong Kong is a former British colony that's been part of China since 1997, but which benefits from autonomy, crediting a "one country, two systems" approach. The structure allows the city certain democratic rights that are not afforded to people on the mainland — but, in recent years, some people have accused the Communist Party-ruled central government of slowly stripping their freedoms.
Ma Ngok, a political scientist at Chinese University of Hong Kong, told the South China Morning Post heavy-handed tactics from police have alienated people.
CLICK HERE TO GET THE FOX NEWS APP
"They have lost confidence in the police enforcing the law fairly and would question the legitimacy of all their actions," he said. "They no longer think it's reasonable to blindly obey the law when there is no punishment for the officers' wrongdoings."
Fox News' Lukas Mikelonis and The Associated Press contributed to this report.