Homicide Bomber Kills 7 Near Minister's Home in Pakistan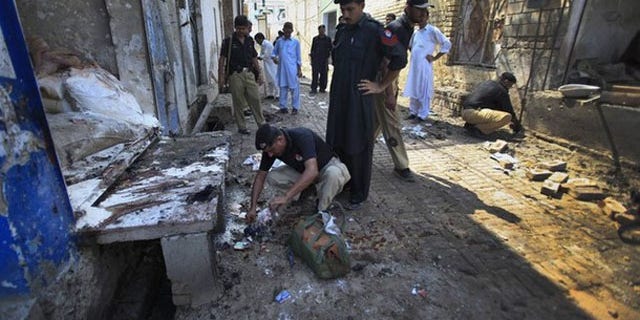 PABBI, Pakistan -- A Taliban homicide bomber struck Monday near the home of a Pakistani provincial minister whose only son was recently killed by the militants, officials said. Seven people were killed and 25 wounded.
Mian Iftikhar Hussain, information minister of Khyber-Pakhtoonkhwa province and an outspoken critic of the Taliban, was the apparent target. He was receiving condolences from visitors elsewhere in Pabbi town at the time of the blast and was safe. Some of his relatives were also receiving mourners at a mosque near the house, and two were hurt, police said.
The Pakistani Taliban claimed responsibility for the bombing, saying their goal was to kill Hussain because his political party is allied with the United States. The Awami National Party is a secular-leaning political group that has been outspoken against militant activity in Pakistan.
"This is just beginning," Taliban spokesman Ahsanullah Ahsan told The Associated Press by telephone. "We will carry out more attacks against the party. We will destroy their roots."
The attack showed the dangers facing those in Pakistan who take high-profile positions against the Islamist militants who have wreaked havoc in the country over the last several years. Hussain is frequently the official who shows up at the scenes of bombings in the northwestern province to condemn the Taliban and allied insurgent factions.
On Saturday, his son, Rashid Hussain, was gunned down in the same area of Nowshera district -- an attack that Ahsan, the Taliban spokesman, said was also carried out by the group.
The homicide bomber Monday was on a motorcycle and was rushing toward the minister's home when intercepted by security officials, senior police official Liaquat Ali Khan said. The bomber, believed to be a young boy, then set off his explosives.
"It was a big bang. Everybody ran in frenzy. People were crying," said Lawang Shah, 50, whose arms and foot were wounded.
Three police were among those killed by the blast. The victims also included two children.
One was an eight-year-old girl, Aashi. Her father, Mehar Rehman, beat his chest and railed against militants as her half-burned body lay at the local hospital.
"She was innocent," Rehman said. "She had nothing against anybody."
Khan said 22 pounds (10 kilograms) of explosives were believed to have been used in the attack and police suspected two more suicide bombers were still in the area.
"I would like to appeal to the public to please avoid gatherings," he said. "Everybody please stay at home. We have launched a search operation."
Local hospital official Tariq Khan said seven people were killed and, of 25 people wounded, eight were in critical condition. TV footage showed police patrols and ambulances racing in streets in the village. A handful of stores in the neighborhood appeared to have been damaged as well.
Khyber-Pakhtoonkhwa province lies along Pakistan's border with Afghanistan and has experienced a great deal of Taliban violence, including attacks targeting government leaders.
The provincial government is led by the Awami National Party, and Hussain is one of the party's most prominent faces.
The U.S. Embassy and Pakistan's prime minister issued quick condemnations of the attack, with the Americans saying in a statement that "such brutal acts demonstrate the terrorists' agenda of fear and intimidation."
Bashir Bilour, a senior minister in the volatile province, bemoaned the persistent militant violence, saying "it is a third world war, and we are the front line."
Also Monday, the prime minister of Pakistan-held Kashmir, Raja Farooq Haider Khan, resigned ahead of a no-confidence vote scheduled against him by opposition lawmakers in the semiautonomous region's parliament. Khan became prime minister in October 2009 after successfully spearheading a similar no-confidence vote against his predecessor.
Pakistan and India both claim the right to all of Kashmir and have fought two wars over the divided Himalayan region. India-controlled Kashmir has experienced unrest in recent weeks as anti-government protesters have staged violent demonstrations.
The Associated Press contributed to this report