Hollande urges Syria rebels to retake extremist zones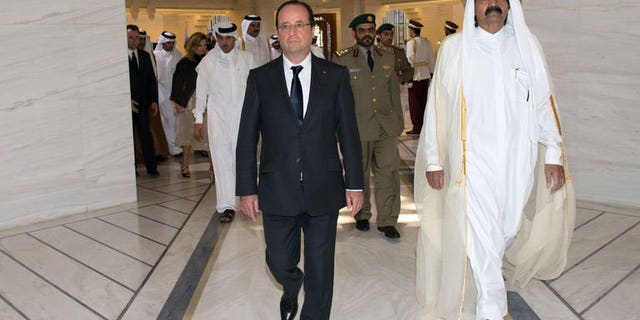 DOHA (AFP) – French President Francois Hollande urged rebels in Syria on Sunday to "retake" zones that have fallen into the hands of extremist Islamist groups.
"The opposition must retake control of these areas and push these groups out," Hollande told reporters in Doha. If extremist groups "benefit from the chaos in future, (Syrian President) Bashar al-Assad will seize this as an excuse to continue his massacres".
His remarks came after world powers supporting Syria's rebels decided on Saturday to provide them with urgent military aid so they can counter regime attacks and "protect the Syrian people".
Yet even as they prepared to step up their own contribution to a war that has killed nearly 100,000 people, they demanded that Iran and Lebanese movement Hezbollah stop supporting Assad's regime.
Hollande affirmed that France is willing to help the Syrian opposition but under certain conditions.
"We cannot provide these arms to groups that would use them against the interests of a democratic Syria or against us," he said.
Top Qatari diplomat and host Sheikh Hamad bin Jassem al-Thani said the meeting in Doha of foreign ministers of the "Friends of Syria" had taken "secret decisions about practical measures to change the situation on the ground".
A final communique said "each country in its own way" would provide "urgently all the necessary materiel and equipment" so that the rebels could "counter brutal attacks by the regime and its allies and protect the Syrian people".
Sheikh Hamad said two of the 11 participating countries had expressed reservations, with diplomats saying these were Germany and Italy.