High speed rail to boost economy 'by ??15bn'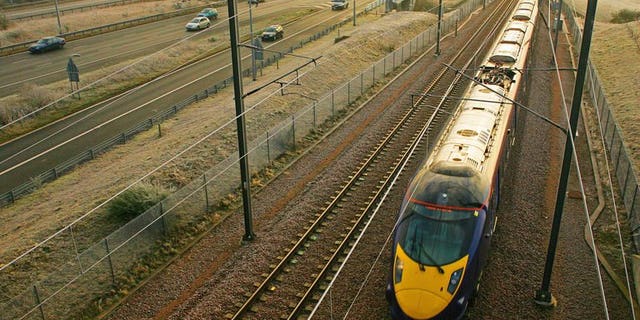 NEWYou can now listen to Fox News articles!
LONDON (AFP) – The controversial HS2 high-speed rail project will boost the UK economy by ??15 billion a year and drive growth in regions outside London, a report will claim on Wednesday.
Transport Secretary Patrick McLoughlin will insist the flagship project, linking London to cities in the Midlands and northern England, will be completed within its ??42.6 billion budget.
McLoughlin will issue a spirited defence of the high-speed line by claiming it will serve as a "heart bypass" for Britain's "clogged" transport network.
"The benefits of faster journeys are easy to explain. But speed is not the main reason for building the new railway," the minister will say in the keynote address as he seeks to shore up support for the project.
"The main reason we need HS2 is as a heart bypass for the clogged arteries of our transport system," he added.
A report from top City accountants KPMG says the network would boost Birmingham's economy by 2.1 percent to 4.2 percent, Manchester by 0.8 percent to 1.7 percent and Leeds by 1.6 percent.
"It addresses that vital question: will HS2 create jobs and growth in the North and Midlands, where they are needed most? The answer is absolutely clear. Yes," McLoughlin will add.
"High Speed Two will make Liverpool stronger. Manchester stronger. Leeds stronger. Britain stronger. A ??15 billion annual boost to the economy.
"With the North and Midlands gaining at least double the benefit of the south."
The Transport Secretary's speech will come after MPs criticised the scheme earlier this week saying that the government based its spending decisions on fragile numbers, out-of-date data and assumptions which did not reflect reality.
"The Department for Transport has yet to present a convincing strategic case for High Speed 2, Margaret Hodge, Chair of the Committee of Public Accounts said.
"It has not yet demonstrated that this is the best way to spend ??50 billion on rail investment in these constrained times, and that the improved connectivity will promote growth in the regions rather than sucking even more activity into London," she added.
The HS2 network would run between London and Birmingham from 2026 and later connect Manchester and Leeds from 2033.