Haley says missile parts prove Iran violating UN resolutions
U.S. Ambassador to the United Nations Nikki Haley said Thursday that she had "undeniable" evidence that Iran has been funneling missiles to Houthi rebels in Yemen in violation of U.N. resolutions.
The evidence Haley unveiled included segments of missiles launched at Saudi Arabia from Houthi-controlled territory in Yemen. She said the missile parts bear markings showing they originate in Iran and that they have technical specifications that are specific to Iranian-manufactured weapons.
"The evidence is undeniable," Haley told reporters in a hangar at Joint Base Anacostia-Bolling in Washington. "The weapons might as well have had 'Made in Iran' stickers all over it."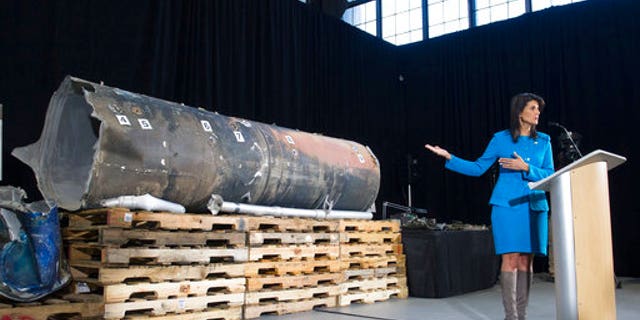 U.S. officials have long suspected Tehran of supporting the Shiite Houthis in Yemen, which has been locked in a vicious civil war since 2015. On Wednedsday, U.N. Secretary General Antonio Guterres said the world body was investigating Iran's possible transfer of ballistic missiles that may have been used in launches aimed at Saudi Arabia on July 22 and Nov. 4.
Haley said the recovered missile fragments came from a weapon that targeted the main airport in Riyadh, the capital of Saudi Arabia.
"Just imagine if this missile had been launched at Dulles Airport or JFK, or the airports in Paris, London, or Berlin," Haley said. "That's what Iran is actively supporting."
Haley said the 2015 nuclear deal between Iran, the U.S. and five other world powers "has done nothing to moderate the regime's conduct in other areas ... It's hard to find a conflict or a terrorist group in the Middle East that does not have Iran's fingerprints all over it."
Haley vowed that the U.S. would rally other nations to push back on Iran's behavior.
"The fight against Iranian aggression is the world's fight," said Haley, who later added, "We must speak with one voice in exposing the regime for what it is: a threat to the peace and security of the entire world."
"For months, we've seen Iran disregard international laws and norms by continuing its provocative ballistic missile testing. Now, with the evidence unveiled today by Ambassador Haley, Iran has been caught red-handed flagrantly violating the prohibition on transferring missile technology to third parties—namely the Houthis in Yemen," former Sen. Joe Lieberman, now the chairman of the advocacy group United Against Nuclear Iran, responded.
Fox News' Lucas Tomlinson and The Associated Press contributed to this report.