Good Samaritans help rescue 26 people from sinking ship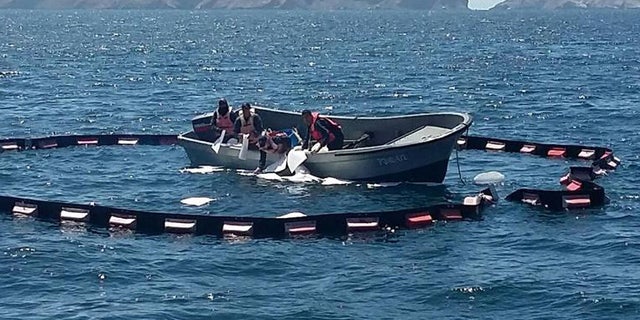 NEWYou can now listen to Fox News articles!
A U.S. sports fishing boat stranded and sinking off the coast of San Diego were rescued by a boat of Good Samaritans early Saturday.
John Rodriguez was out on his boat with family and friends when he overheard an urgent plea for help from the Coast Guard.
Invicta, a 63-foot sports fishing boat based out of San Diego California, had struck rocks off the Coronado Islands and was taking water. There were 26 people aboard.
"I realized they were only a mile and half away, so I immediately got the radio and said I would respond to the distress call," Rodriguez told ABC News.
According to the Coast Guard, Rodriguez's boat was the closest to the wreckage and made it to them in about 15 minutes after the call was made.
"One guy gave us a hug and started crying. People were just so thankful we were there," said Rodriguez's son, Jake.
All 26 – 21 passengers and 5 crew – were brought aboard Rodriguez's boat and waited for the Coast Guard to arrive.
"The fact that they were relatively close and they were on the scene very quickly made all the difference in the world," U.S. Coast Guard Master Chief Chris Swiatek told ABC News.
Profepa, the Mexican federal environmental protection agency for vessels and navy ships, told EFE that a plan has been implemented to clean up any oil and diesel spilled into the ocean. About 20 liters (5.3 gallons) of diesel were recovered during the cleanup.
The crash is under investigation while Rodriguez and his family are being hailed as heroes.
"We were just in the right place at the right time for those people," Sandra Rodriguez said.