Germany sees surge in number of refugees receiving benefits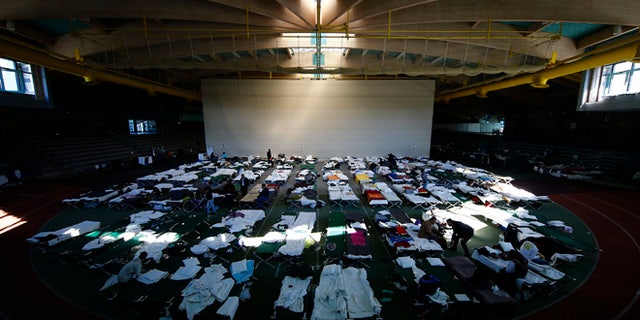 NEWYou can now listen to Fox News articles!
About half a million refugees in Germany received social security benefits in June, almost twice as many as a year earlier, potentially fueling tension among voters over the recent influx of refugees and heaping pressure on Chancellor Angela Merkel.
The Federal Employment Agency said 469,403 immigrants from asylum seekers' eight most common countries of origin received benefits in June, a 93% increase from a year earlier. The number of Syrians tripled to 292,326 while the number of Iraqis rose by almost a quarter to 68,813.
The influx of some 890,000 asylum seekers into Germany last year has turned into a challenge for Ms. Merkel, who had initially welcomed them with open arms.
Unease among voters about public expenses for asylum seekers and criminal offenses committed by some immigrants has eroded support for her Christian Democratic Party in recent regional elections.
Refugees become eligible for social security benefits or permitted to work in many cases months after their arrival because they have to go through a bureaucratic process first, during which authorities decide whether they are allowed to stay in the country.
In total, 5.9 million people received social security benefits in June, of which 1.6 million were foreigners, according to the Federal Employment Agency. The number of refugees with regular employment rose by a third to 104,736 in July.
Most refugees struggle to find jobs because of insufficient German language skills, poor education and bureaucratic hurdles. The majority of job-seeking refugees qualify only for entry-level positions, but an advanced economy like Germany's needs mainly skilled staff.