German minister hopes Moldova stays close to Europe despite Communist influence on govt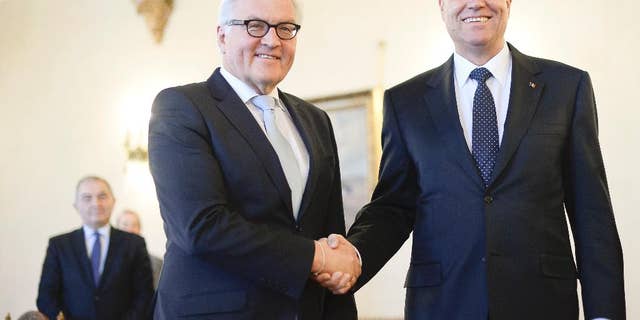 BUCHAREST, Romania – Germany's foreign minister said Monday that he hopes Moldova will stay on its pro-European path after the former Soviet republic elected a government backed by a Communist party.
Frank-Walter Steinmeier said Germany wouldn't "withdraw any offer" to Moldova, but said "it is Moldova's turn to react."
Pro-European parties won the Nov. 30 election, but failed to agree on a governing coalition, and they need the support of the Communist party, which favor slower reforms. Moldova signed an association agreement with the EU in June, angering Russia.
Steinmeier discussed the situation in Ukraine in talks with Romanian Foreign Minister Bogdan Aurescu. Steinmeier said the cease-fire from the Feb. 12 Minsk agreement was holding, with some minor violations.
He said the Organization for Security and Cooperation in Europe would extend its mission in Ukraine, increasing the number of observers and the duration of the mission.
"It is important to allow the OSCE to control and verify these developments," he said.
Steinmeier spoke after a meeting with Romanian President Klaus Iohannis in Bucharest. Relations between Germany and Romania have strengthened since Iohannis became president in December. There are about 40,000 ethnic Germans in Romania. Around 350,000 Romanians live in Germany.