General whose capture put Colombia peace talks on hold is top counterinsurgency strategist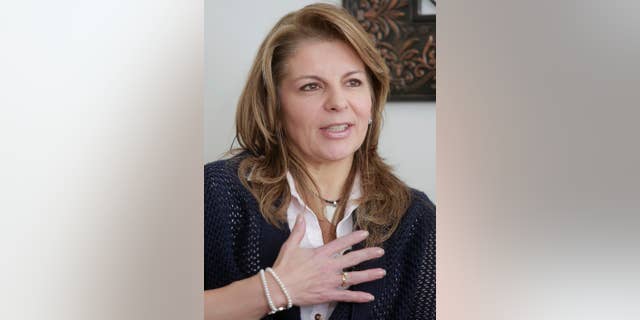 BOGOTA, Colombia – The general whose capture by rebels has put Colombia's peace talks on hold is one of the country's foremost counterinsurgency strategists who once received his officer's insignia from the hands of U.S. Army Gen. David Petraeus.
People who know Gen. Ruben Dario Alzate describe him as a studious man who saw himself as part of a new generation of Colombian military officers committed to using social projects to win the hearts and minds of poor communities in the battle against the Revolutionary Armed Forces of Colombia, or FARC.
On Wednesday night, a deal was announced between the FARC and the government to facilitate the release of the general and two others who were snatched with him over the weekend as they traveled through the jungled waterways of western Colombia. It's not clear when that might take place or what the conditions are.
The capture of the 55-year-old officer led President Juan Manuel Santos to suspend the two-year-old peace talks and order a big search operation for the highest-ranking officer ever taken by the rebels.
"A military career in Colombia is full of risks but I never imagined this was going to happen," his wife, Claudia Farfan, told The Associated Press before the release deal was announced. Later, speaking from her home at a heavily guarded apartment complex for military officers, she said she was thrilled at the news.
"I can't wait for the moment to welcome my husband home," she said.
Farfan said she had received an outpouring of support from friends made in the U.S. during four different study sabbaticals.
Alzate was taking a leadership course at Fort Leavenworth in Kansas in 2005 when word came that he had been made colonel. Presiding over the promotion ceremony was the base's then-commander, the now retired Petraeus, who would quiz the officer on Colombia's half-century conflict at the same time as he was rewriting the U.S. Army's own counterinsurgency field manual to fight wars in Iraq and Afghanistan.
In 2010, Alzate returned to the U.S. to earn a master's degree at the Army War College near Harrisburg, Pennsylvania. His thesis, littered with reference to Mao Zedong and early 20th century French soldier-intellectual David Galula, focuses on how cooperation between Colombia's military and a broad range of government institutions as well as U.S. agencies is key to safeguarding battlefield gains against the FARC.
"He clearly wants to see the country succeed in bringing about the rule of law," said retired U.S. Col. George Teague, who remembers Alzate as a deeply engaged, bookish and congenial student.
Alzate's bookshelf reflects his intellectual curiosity. Between framed artwork of famous U.S. military battles are books by Colin Powell and a dog-eared copy of Carl von Clausewitz's classic treatise "On War."
When Santos named him in January to head the newly created Titan task force targeting the guerrillas in one of their most-entrenched enclaves it was the ideal laboratory to put his ideas to work.
He and the 2,500 soldiers and marines under his command worked closely with local authorities on a 25-year development plan in Choco, where 81 percent of the mostly-black population lives in poverty — more than twice the national average.
Adam Isacson, a long-time analyst of Colombia's conflict at the Washington Office on Latin America, says he was impressed by Alzate's talk of development work when he met the general in Choco in March. At the time, Alzate told Isacson that about 60 percent of his resources would be spent on non-military social projects.
"He had some strong ideas about how the armed forces should be developing good relationships with the poorest Colombians," Isacson said. "He was certainly trying to convey the impression that he represents a new breed of military officer."
___
Associated Press writer Cesar Garcia contributed to this report.
___
Joshua Goodman on Twitter: @APjoshgoodman