Gaza Flotilla Activists Detained in Greece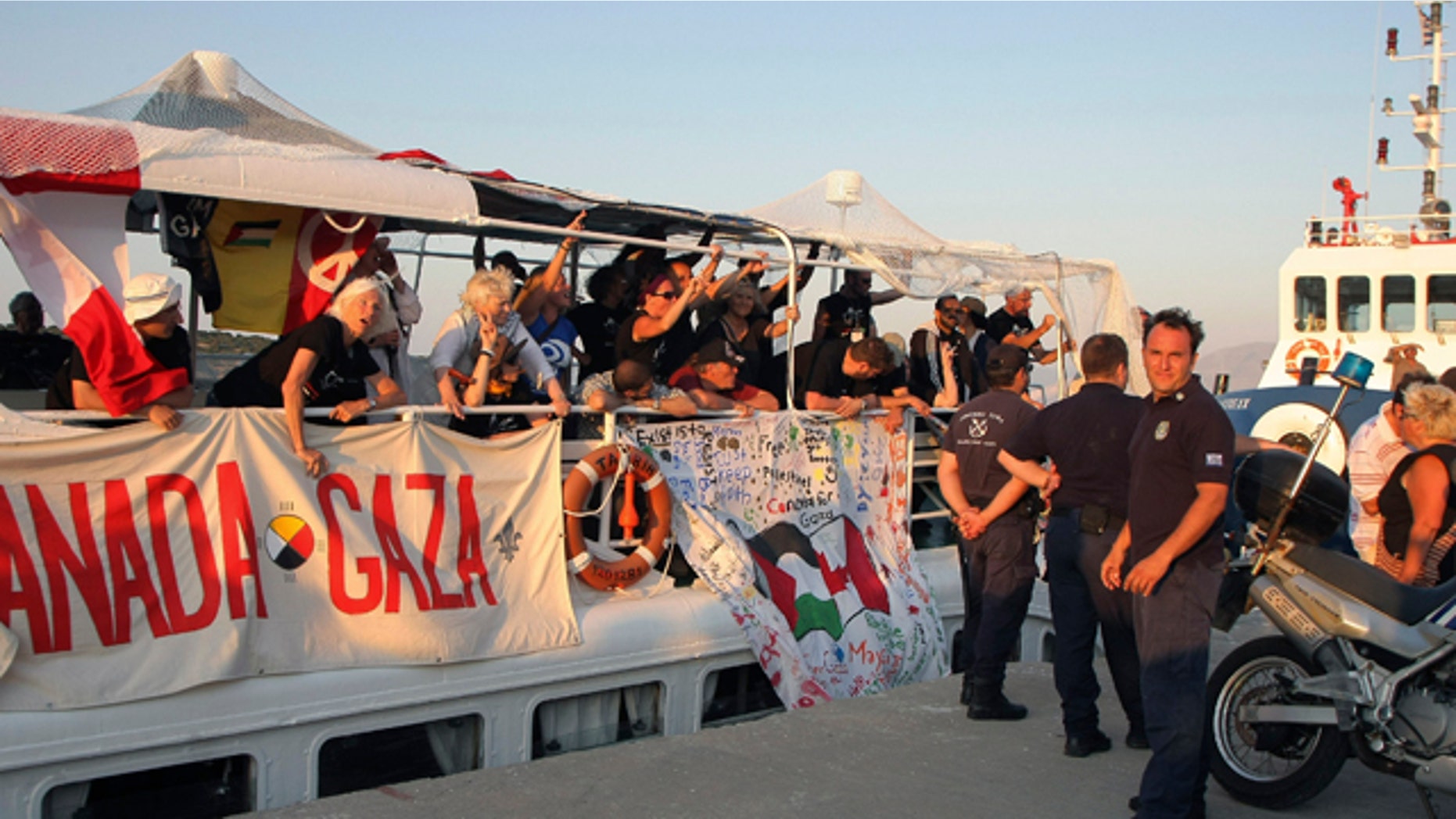 Greek authorities have detained three activists attempting to breach Israel's blockade of the Gaza Strip, after a boat set sail in defiance of a Greek ban, officials and pro-Palestinian activists said Tuesday.
David Heap, a spokesman for the Tahrir, identified those detained as Canadians Sandra Ruch and Soha Kneen, and Australian Michael Coleman. The boat tried to leave the southern Greek island of Crete on Monday, but was forced to turn back by Coast Guard vessels.
The Greek Merchant Marine Ministry said one of the Canadians, who was responsible for the boat, was arrested on charges of illegally sailing without permission. The other Canadian national and the Australian were arrested for using kayaks to block a coast guard vessel from setting sail to stop the flotilla boat.
Greece last week banned all boats participating in the Gaza flotilla from leaving port, citing security concerns after a similar flotilla last year was raided by Israeli forces, leaving nine activists on a Turkish boat dead. The Greek foreign ministry has offered to deliver the humanitarian aid the activists want to take to Gaza.
French pro-Palestinian activists said in Paris Tuesday one small boat was in international waters and on its way.
Jean-Claude Lefort, a spokesman for the group, told The Associated Press Tuesday that the Dignite-Al Karama left a port near Athens early Monday with eight activists and two crew members on board. If true, it would be the first flotilla boat to leave Greece.
However, the claim could not be confirmed. Greek authorities said they were looking into the report. Greek activist Dimitris Plionis said during a news conference in Athens that the boat had been in a "safe" area "in this part of the Mediterranean." He said it was not sailing to Gaza at the moment, but was waiting for other boats from the flotilla to join it.
The captain of another boat in the flotilla, the Audacity of Hope, appeared in court in Piraeus Tuesday to give a deposition after being arrested over the weekend for setting sail in defiance of the Greek ban.
John Klusmire was led into the building in handcuffs, holding a bottle of water and escorted by police.
"It's a terrible, terrible thing that the government of Greece has done. We are here in support of the captain, an honorable man and a professional sea captain," said one campaigner, retired U.S. Army Col. Ann Wright, at the courthouse. "It is terrible that they feel they had to keep him in jail."