Gang member who ambushed and killed two police officers will appear in court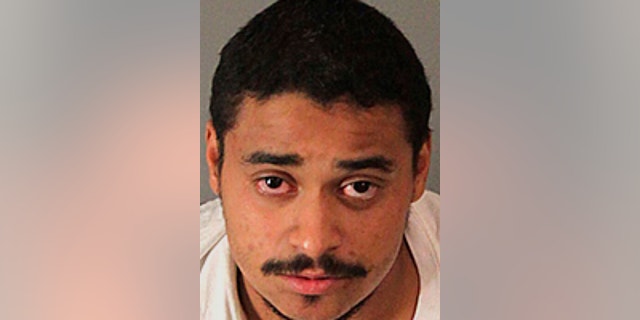 NEWYou can now listen to Fox News articles!
RIVERSIDE, Calif. (AP) – A gang member who prosecutors say targeted, ambushed and killed two Palm Springs police officers is scheduled to appear in court.
Arraignment on first-degree murder and other charges is scheduled Thursday for John Hernandez Felix in Riverside, California.
Felix, 26, was prepared to attack the officers when they responded to a 911 call from his family's home Saturday, Riverside County District Attorney Michael Hestrin said.
He wore body armor and used armor-piercing ammunition when he opened fire with an AR-15 rifle on officers who came to the door, prosecutors said.
"This individual wanted to kill police officers," Hestrin said. "That's the motive. He wanted to gun down police officers because they wore the uniform."
He termed the attack an ambush and said the officers "walked into a trap." The killings are the latest in a string of fatal attacks on officers that includes ambushes in Dallas and Baton Rouge, Louisiana.
Felix faces special-circumstance allegations of murder of a police officer in the line of duty, multiple murders and lying in wait, which qualify him for the death penalty, Hestrin said. Prosecutors will decide within three weeks whether to seek capital punishment.
An attorney is being assigned to him, prosecutors said.
He's accused of killing Officers Jose "Gil" Gilbert Vega, 63, and Lesley Zerebny, 27, and wounding a third officer. The unidentified officer was released from a hospital Sunday.
Vega was a 35-year veteran of the force and was preparing to retire. Zerebny had been with the department about 18 months and left behind a 4-month-old daughter with her husband, a Riverside County sheriff's deputy.
Palm Springs Police Chief Bryan Reyes invited the public to a memorial service for the officers at the city's convention center next Tuesday "to pay your respects and show your love for the ultimate sacrifice of these two guardians of the city of Palm Springs."