Fugitive treasure hunter who found 'Ship of Gold' nabbed after two years on lam
NEWYou can now listen to Fox News articles!
A legendary treasure hunter who found a shipwreck containing as much as 10 tons of gold, then allegedly cheated his investors out of their cut and disappeared, has been nabbed after more than two years on the run, authorities said.
The U.S. Marshals Service tracked down Tommy Thompson, 62, at a hotel in Palm Beach County, Florida, and arrested him Tuesday, said Brian Babtist, a senior inspector in the agency's office in Columbus, Ohio, where a federal civil arrest warrant was issued for him in 2012 after he failed to show up to a key court hearing.
"The SS Central America is one of the greatest shipwreck stories of all time."
Babtist said Thompson was arrested along with his longtime companion, Alison Anteiker, and the two were awaiting a hearing in Florida before they would be extradited to Ohio to appear before the judge who issued a warrant for their arrests.
Thompson made history in 1987 when he found the sunken SS Central America, also known as the Ship of Gold. In what was a technological feat at the time, Thompson and his crew brought up thousands of gold bars and coins from the shipwreck. Much of that was later sold to a gold marketing group for about $50 million.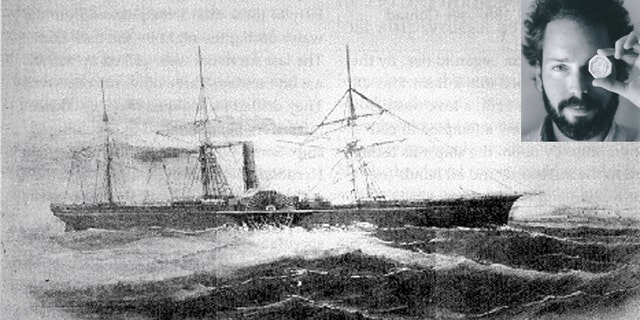 Years of legal wrangling involving insurance companies and investors ensued, and Thompson, who by 2006 was living in a secluded Florida mansion, vanished six years later when a warrant was issued for his arrest.
U.S. Marshals searching his mansion found bank receipts as well as a book titled, "How to Live Your Life Invisible." One marked page was titled: "Live your life on a cash-only basis."
But the hunt for Thompson proved daunting. The U.S. Marshals Service featured his image on digital billboards in Ohio and Florida, but Brad Fleming, a deputy U.S. marshal in Columbus, told FoxNews.com in March 2013 none of the tips his office received had checked out.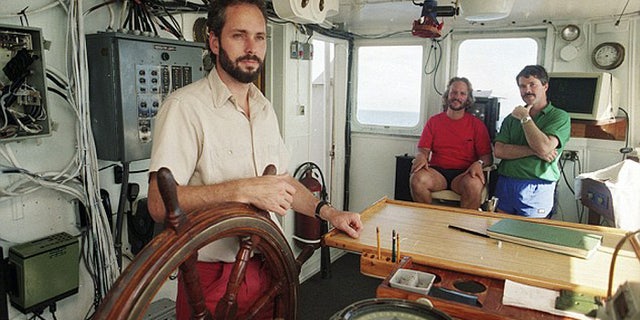 The SS Central America, which was dubbed in maritime lore as the "Ship of Gold," sank some 160 miles off the South Carolina coast during a hurricane in the Atlantic Ocean in 1857, taking 425 souls and up to 21 tons of gold to the ocean floor some 8,000 feet below. The gold had been shipped from San Francisco down to the west coast of Panama, then sent by rail to the Central American nation's east coast and finally loaded onto the steamship bound for New York.
Thompson found the 280-foot ship off the North Carolina coast some 130 years later. Too deep for humans to dive, Thompson used a remotely operated vehicle built specifically for the project to comb the wreck for gold, a technique that was not in wide use at the time. He later sold bars and coins salvaged from the wreck to a California mint for $52 million, but allegedly stiffed his crew and investors. Exactly how much gold recovered from the sunken ship's gold remains unclear, although investors who ponied up for Thompson's search claim they are due millions. His team of nine technicians is seeking more than $2 million and have been fighting for their cut in court for years.
Last year, the Odyssey Marine Exploration, a Florida-based deep-ocean exploration company, began diving the shipwreck on behalf of the plaintiffs. Odyssey divers and archaeologists have now recovered more than 15,500 gold and silver coins and 45 gold bars from the wreck site, according to the company. They've also found gold jewelry, gold nuggets and snippets of 19th-century life, from glass containers to chewing tobacco still in its package.
Estimates of how much gold was on the ship when it went down have ranged as high as 10 tons. The wreck lies too deep for humans to dive, but that won't stop the salvage operation. Using its research vessel, the Odyssey Explorer, the company will use an 8-ton remotely operated vehicle (ROV) called Zeus to scan the ocean floor while the operation is directed by an archaeologist and project manager thousands of feet away.
"The SS Central America is one of the greatest shipwreck stories of all time," Odyssey's CEO Greg Stemm told FoxNews.com.
The ship, originally launched in 1852 as the SS George Law, was in continuous service on the Atlantic leg of the Panama route between New York and San Francisco. When it sank on Sept. 12, 1857, killing at least 425 of its 477 passengers, it was carrying a large consignment of gold ingots and freshly minted U.S. $20 Double Eagle coins. The sheer size of the loss was so large that it triggered public confidence in the economy to fall, leading to what's known to historians as the Panic of 1857. The ship was immortalized in the best-selling book, "Ship of Gold in the Deep Blue Sea."
The Associated Press and Fox News Channel's Joshua Rhett Miller contributed to this report