French officer who swapped himself for hostage served in Iraq, received nation's highest honor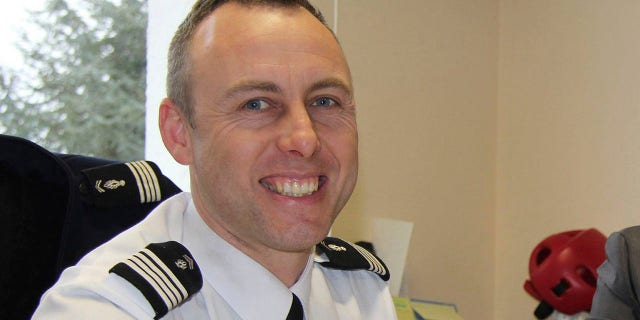 The French police officer who died after offering himself up in exchange for a hostage in a deadly supermarket siege on Friday served in Iraq in 2005 and was also a member of the presidential guard, among other notable achievements.
The officer, identified as Lt. Col Arnaud Beltrame, 44, died of his injuries after he took the place of a female hostage when a gunman went on a rampage at a Super U supermarket in the southern French town of Trebes.
His death brings the death toll to four. Authorities said that 15 others were injured in the attack.
Beltrame, who traded himself up unarmed, secretly left his cellphone on so police outside could hear what was going on inside the store. When they heard gunshots, they stormed the supermarket, killing the 25-year-old gunman who was later identified as Moroccan-born Radouane Lakdim.
Beltrame was fatally wounded and later died of his injuries.
"Arnaud Beltrame died in the service of the nation to which he had already given so much," President Emmanuel Macron said. "In giving his life to end the deadly plan of a jihadi terrorist, he fell as a hero."
Read on for a look at who Beltrame was.
A long career of service
Beltrame, who was married with no children, graduated from a top military academy in France in 1999, the BBC reported. A few years later, he joined an elite police special forces group.
In 2005, he served in Iraq. Upon his return, according to a statement released by President Macron, Beltrame served as a member of the presidential guard.
He also received an award for bravery in 2007, CNN reported, and earned the Order of Merit -- one of France's highest honors -- in 2012.
Prior to his death, Beltrame had organized a training session in the Aude region in December for a similar type of hostage situation. At the time, he armed his officers with paintball guns, according to the Depeche du Midi newspaper.
Remembered as a hero
Cedric Beltrame, the officer's brother, told RTL radio Saturday that his brother died "a hero."
"He was well aware he had almost no chance. He was very aware of what he was doing," Cedric Beltrame said.
Beltrame's mother also told the radio station that, for her son,"to defend the homeland" was "his reason to live."
"He would have said to me, 'I'm doing my job, Mom, nothing more,'" she said.
The Associated Press contributed to this report.