French Foreign Minister: Envoys Say Qaddafi Ready to Go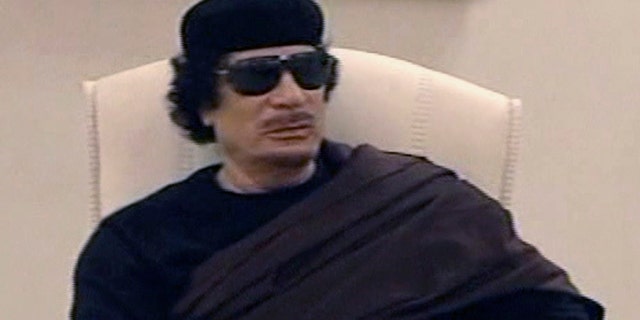 PARIS – France's foreign minister said Tuesday Paris has had contact with emissaries from Muammar al-Qaddafi who say the embattled Libyan strongman is "prepared to leave" power.
It was not immediately clear whether such an offer is credible or amounts to a potential breakthrough in the Libyan crisis. But Qaddafi has refused to leave or give up power.
Alain Juppe said that while the contacts do not constitute proper negotiations, "everyone (involved in Libya's civil war) has contacts with everyone else. The Libyan regime sends its messengers all over, to Turkey, to New York, to Paris.
"We receive emissaries who are saying, 'Qaddafi is prepared to leave. Let's discuss it,"' Juppe said, without identifying the envoys.
The U.S. State Department said that Washington, too, is getting visitors.
"We have a lot of folks claiming to be representatives of Qaddafi one way or the other reaching out to lots of other folks in the West," said State Department spokeswoman Victoria Nuland. "But the messages are contradictory, and we remain to (hear) a clear-cut message -- more importantly, the TNC (Transitional National Council representing the rebels) remains to have a clear-cut message -- that Qaddafi is prepared to understand that it's time for him to go," she said.
French officials and their allies have insisted that Qaddafi's giving up power is key to ending the hostilities, which began in mid-March, and Juppe said that more and more countries agree on that point.
"There is a consensus on how to end the crisis, which is that Qaddafi has to leave power," Juppe said. "That (consensus) was absolutely not a given two or three months ago.
"The question is no longer whether Qaddafi is going to leave power, but when and how," he said.
France was instrumental in launching the NATO-led operation of airstrikes against Qaddafi's forces, in a U.N.-mandated mission to protect civilians resisting his four-decade regime.
NATO flew more than 100 sorties Monday and hit several key targets in western Libya, including a military storage facility, three military facilities and seven military vehicles, according to an operational report issued Tuesday.
Juppe's upbeat talk came hours before French lawmakers voted overwhelmingly, 482-27, to continue the French role in the NATO-led air campaign. French law requires parliamentary approval for all military campaigns lasting more than four months.
In Tripoli, Libyan officials warned that the rebel-controlled eastern half of the country could be cut off from water supplies without a truce to allow for maintenance work on a power plant pumping water up from the desert.
About 70 percent of the country relies on water brought up from underground aquifers deep in the southern desert, and the plant powering it in the east is falling apart, said the Libyan agricultural minister.
"Out of six turbines, we are using one turbine in the plant because of lack of maintenance," said Abdel-Maguid al-Gaud, who also heads the system known as the Great Man-made Water Project, which supplies water to both halves of the country. "It's going to close itself."
However, in the rebel-held city of Benghazi, the manager there of the Great Man-made River project, Abdel Razek al-Zlitni, said there are no water supply problems in eastern Libya.
"The No. 1 zone which supplies the eastern side of Libya with water is fine and is working perfectly," he said of the reservoir there.
Al-Zlitni said, however, that there are no communication with the besieged area in western Libya so it is unclear if they are having water problems.
In Tripoli, Al-Gaud called for a cease-fire with the rebels and NATO forces and urged the U.N. to lift a ban on importing spare parts so the power plant could be repaired and restored to full power. U.N. Security Council resolutions ban imports of many items into Libya.
Libya has made several demands for a cease-fire but the rebels and NATO have insisted on Qaddafi's departure first.
Meanwhile, NATO appeared to suggest on Tuesday that it would be willing to stop bombing Libya during Ramadan -- if Qaddafi's forces also honored a cease-fire during the Muslim holy month of Ramadan, which begins around Aug. 1.
"We need to wait and see whether Qaddafi's forces continue to shell and inflict harm," said a NATO spokesman, Wing Cmdr. Mike Bracken.
"If they do, and we believe there is risk to the lives of Libyan people, then I think it would be highly appropriate to continue to use the mandate that NATO has to protect those lives," Bracken said during a teleconference from NATO's operational command in Naples, Italy.
A French lawyer, meanwhile, announced in Tripoli that he is going to present a petition on behalf of the Libyan government to the International Criminal Court's appeals body to have its prosecutor and judges recused for bias.
Marcel Ceccaldi told reporters that ICC prosecutor Luis Moreno-Ocampo and the judges that handed down arrest warrants for Qaddafi, one of his sons and a top lieutenant for war crimes should be thrown out.
"We have proof that the investigation of Moreno is biased and in the service of the coalition bombing the Libyan state," Ceccaldi said.
He said the court lacked legitimacy and criticized Moreno-Ocampo for collecting testimonies only in the rebel-held parts of the country.