Freed American Sarah Shourd begins trip back to US after thanking Oman for mediation with Iran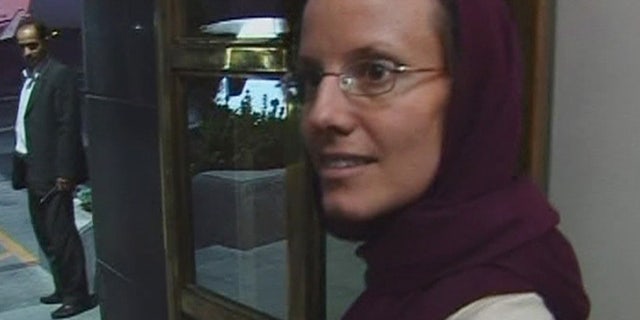 MUSCAT, Oman – MUSCAT, Oman (AP) — An American woman released from Iran after more than 13 months in custody began her journey back to the United States on Saturday after asking her supporters to "extend your prayers" to her fiance and another American man who remain in Tehran accused of spying.
In a brief statement, Sarah Shourd thanked Oman — an ally of both Iran and the United States — for mediating the $500,000 bail that led to her freedom earlier this week. But she made no mention of her ordeal inside Tehran's notorious Evin Prison or any health problems — which her mother has said include a breast lump and precancerous cervical cells.
"Please, please extend your prayers" to the other two Americans still held — her fiance Shane Bauer and their friend Josh Fattal — she said at Oman's international airport before boarding an Oman Air flight on the first leg of her trip home accompanied by her mother Nora and an uncle.
She arrived in Dubai, United Arab Emirates, from Oman late Saturday. She was next scheduled to appear at a news conference in New York on Sunday timed to coincide with the arrival of Iranian President Mahmoud Ahmadinejad to attend the U.N. General Assembly.
Shourd, 32, appeared in good spirits and less gaunt than when she stepped off a private Omani jet late Tuesday after her release from Iran.
She expressed special gratitude to Oman, which helped secure the $500,000 bail that satisfied Iranian authorities and apparently did not violate U.S. economic sanctions. The source of the bail payment has not been disclosed.
"I'll always associate your country with the first breath of my freedom, the sweet smell of sandalwood and a chance to stand by the ocean listening to the waves," she said, wearing long-sleeve black T-shirt covered by a white top and white sneakers — a contrast to the maroon head scarf and tan button-down tunic she wore leaving Tehran.
The three Americans were detained in July 2009 along the Iraqi border. Iran has issued espionage-related indictments, which could bring trials for the two men and proceedings in absentia for Shourd. Their families say that if they crossed the border, they did so unintentionally.
Shourd has stayed out of the public eye since being embraced by her mother at a special royal airfield. Few details have emerged of her first days of freedom apart from going to a medical exam and a private tour Saturday of the Grand Mosque in Muscat.
She said she hoped to return someday with Bauer and Fattal — adding the common phrase "Inshallah" or "God willing" in Arabic. A crowd of international media was on hand for her statement in a VIP room with chandeliers and carved wooden doors, but she did not take questions.
Earlier in Tehran, Ahmadinejad said he was hopeful the United States would release several Iranians it is holding now that Shourd has been freed.
Ahmadinejad has suggested in the past that the three could be traded for Iranians held in the U.S., raising concerns that the Americans were to be used as bargaining chips as the two countries face off over issues like Iran's disputed nuclear program. In December, Iran released a list of 11 Iranians it says are in U.S. custody.
One of them, nuclear scientist Shahram Amiri, returned to Iran in July. Iran said he had been kidnapped during a pilgrimage to Saudi Arabia in June 2009 and taken to the United States. Washington said he was a willing defector who later changed his mind and was allowed to return home.
Speaking of Shourd's release, Ahmadinejad said in a state TV interview broadcast Friday night "We hope they appreciate this job."
In Washington, Secretary of State Hillary Rodham Clinton told reporters the U.S. is "absolutely committed to the return of Josh and Shane," and appealed to Tehran to let them go.
"These two young men have been held without cause now for more than a year. It would be a very significant humanitarian gesture for the Iranians to release them as well," Clinton said.
She also spoke with the men's parents Thursday to reassure them about efforts to bring their sons home.
Iran's list of citizens it says are held in the U.S. includes three Iranians who have been convicted or charged in public court proceedings in the United States.
The circumstances surrounding some of the others are more mysterious. They include a former Defense Ministry official who vanished in Turkey in December 2006 and three others who Iran says were abducted in Europe and sent to the U.S.
Those involved in public court proceedings include Baktash Fattahi, a legal U.S. resident arrested in April 2009 in California and charged with conspiracy to export American-made military aircraft parts to Iran.
Another, Amir Amirnazmi, is a dual U.S.-Iranian citizen who was convicted by a court in Pennsylvania in February 2009 of business dealings with Iranian companies banned under U.S. sanctions.
The third Iranian, Amir Hossein Ardebili, was sentenced to five years in prison in December 2009 by a court in Wilmington, Delaware, after pleading guilty to plotting to ship U.S. military technology to Iran. Iran has called it a show trial and said Ardebili was abducted in the former Soviet republic of Georgia in 2007 before being handed over to U.S. authorities in 2008.
The list also includes an Iranian arrested in Canada on charges of trying to obtain nuclear technology and two others who Iran says are being held in the U.S. without charge.
___
Associated Press writer Matthew Lee in Washington and Nasser Karimi in Tehran, Iran, contributed to this report.