Flight attendant and American girlfriend attacked by gang of men on London bus after refusing to kiss
A South American flight attendant and her U.S. girlfriend were attacked and left bloodied after a gang of men attacked them on a bus in the U.K.
Melania Geymonat, 28, from Uruguay was riding the bus with her girlfriend Chris after an evening out in West Hampstead, London, in the early hours of Thursday, May 30.
Geymonat, who lives in Bishop's Stortford in Essex and works for budget airline Ryanair, says they sat at the front of the double-decker bus when a group of men behind them noticed they were a couple and started to demand they kiss while making crude sexual gestures.
"They wanted us to kiss so they could watch us. I tried to defuse the situation as I'm not a confrontational person, telling them to please leave us alone as Chris wasn't feeling well," she said.
The men, who were in their 20s or 30s, began throwing things and the couple told them to stop.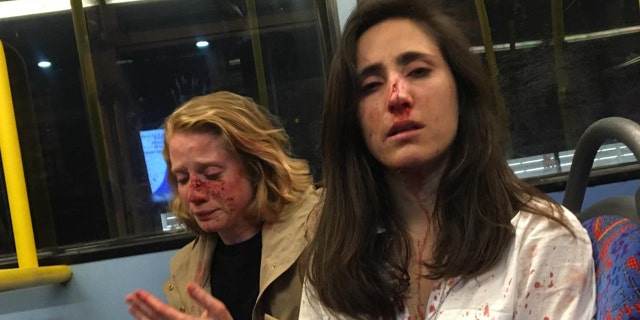 "The next thing I remember was Chris in the middle of them and they were beating her," Melania said. "I didn't think about it and went in. I was pulling her back and trying to defend her so they started beating me up.
"I don't even know if I was knocked unconscious.
"I felt blood, I was bleeding all over my clothes and all over the floor.
'I AM JAZZ' SURGEON DENIES POSTING HOMOPHOBIC COMMENTS ON SOCIAL MEDIA, SAYS HE WAS HACKED
"We went downstairs and the police were there."
She said there were at least four of them and one spoke Spanish while the others had a British accent. The attackers also robbed the couple before fleeing the bus.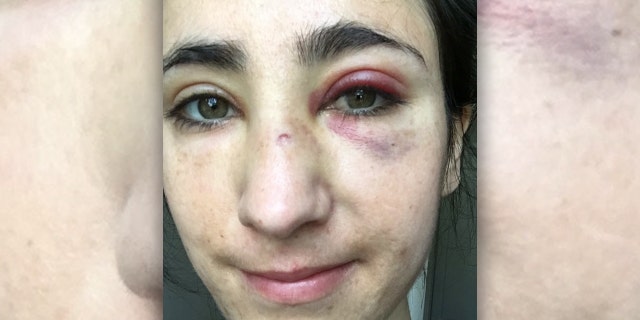 Melania, who moved to Britain in February and is on a year's sabbatical from her medical studies, says she felt safe as a gay woman in London and was stunned by the attack. She released the picture to raise awareness of violence against women and gay people.
TIMES SQUARE GRENADE-ATTACK PLOT THWARTED AFTER 'LONE WOLF' SUSPECT ARRESTED: REPORTS
"It's not something isolated, it's common," he said. "We were seen as entertainment, that's what makes me so angry."
The Metropolitan Police said that four teenage males between 15 and 18 have been arrested on suspicions of robbery and aggravated grievous bodily harm following the incident.
Detective Superintendent Andy Cox said: "This was a disgusting attack on two women who appear to have been picked out and targeted by a group of youths. The suspects have made a number of homophobic comments towards the couple before throwing coins at them. When the women tried to reason with the group, the attack escalated to an assault.
"CCTV footage from the attack is being reviewed by detectives. We continue to appeal for information from the public, particularly those who were present on the bus before or after the attack to come forward and tell police what they saw.
"A number of active inquiries are in hand to trace other individuals suspected to have been involved in the incident. Lots of people will understandably be outraged by this attack. Our efforts to trace all the suspects involved and bring them in for questioning will be relentless.
CLICK HERE FOR THE FOX NEWS APP
"Attacks of this nature on London buses are rare. I would like to reassure those heading out over the weekend that extra uniformed and plainclothes Safer Transport officers will be out on patrol working to keep them safe and prevent crime."