Flames' workhorse Kiprusoff retires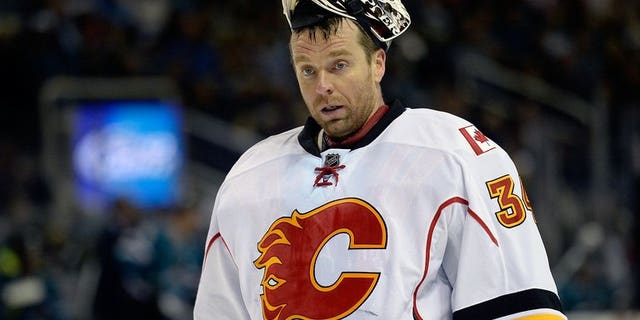 NEWYou can now listen to Fox News articles!
CALGARY, Canada (AFP) – Finland's Miikka Kiprusoff, who won the Vezina Trophy in 2006 as the league's top goaltender, announced Monday he is retiring after a stellar 12-year NHL career.
The 36-year-old from Turku finishes with a franchise best 41 career shutouts. He also retires as Calgary's all-time leader in wins (305) and games played (576).
Kiprusoff said he made up his mind to step away several months ago.
"I decided to retire at the end of last season," Kiprusoff said. "It's an important decision for me personally and my family."
If he had stayed one more year, Kiprusoff would have made $5.8 million in salary.
Due to injuries, Kiprusoff played in just 24 games last season and finished with one of the lowest save percentages (.882) of his career. He also had a 3.44 goals against average (GAA).
Kiprusoff was acquired by the Flames from the San Jose Sharks in 2003 and led Calgary to within one win of a Stanley Cup championship in 2004.
He concluded his career with 319 wins, a 2.49 GAA and a .912 save percentage in 623 games. He never played in fewer than 70 games a season between 2005 and 2012.
Kiprusoff represented his country in the 1999 and 2001 World Championships, as well as the 2010 Winter Olympics in Vancouver.
He was offered a spot on the Finnish team for the 2002 Winter Olympics, but declined citing a desire to focus on getting ready for the upcoming season with San Jose.