First lady urges Cambodian students to seek more freedoms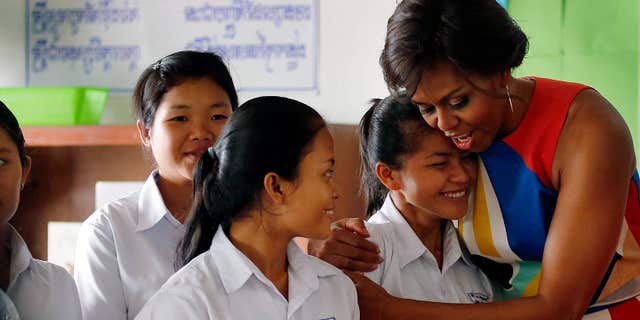 NEWYou can now listen to Fox News articles!
SIEM REAP, Cambodia – U.S. first lady Michelle Obama on Saturday urged Cambodian students to stay in school and take advantage of their education to demand greater freedoms and more equality in their Southeast Asian country.
Cambodia has been ruled for 30 years by authoritarian strongman Hun Sen, the prime minister, whose wife Bun Rany joined Mrs. Obama on her visit Saturday to the northern city of Siem Reap.
Mrs. Obama is on a five-day trip to Asia to promote the U.S.-led education initiative, "Let Girls Learn," which she and the president announced earlier this month. The community-based program, to be run by the Peace Corps, is meant to help get 62 million girls around the developing world back into classrooms.
Mrs. Obama spoke to students at a high school filled with dirt paths and red brick buildings that unlike many schools in rural Cambodia has running water. After being welcomed by rows of children who greeted her waving Cambodian and American flags, the first lady met with 10 girls who shared tales of rising early to feed their families before heading off on long treks to school and studying late into the night.
"You are role models to the world," Mrs. Obama said, calling on the students to use their "voices to advocate for good things — whether it's more education, better health-care, more freedoms, more equality."
"You now will have a voice and you will have the training and education to use it for good," the first lady said. "Not just here in Cambodia, not just here in Siem Reap, but in the world. I hope that you all will feel empowered to do that.
Mrs. Obama's trip marks the first by a sitting American first lady to Cambodia. President Barack Obama became the first U.S. president to visit Cambodia in 2012, and pressed Hun Sen in private on a variety of human rights and political issues during a meeting that White House officials described as tense.
Hun Sen is one of the world's longest serving heads of state, and has been regularly criticized by political opponents and human rights groups for monopolizing power and brutally crushing dissent. His supporters say he has helped stabilize the country, which is still haunted by a 1970s genocide that saw nearly 2 million die under the ultra-communist Khmer Rouge regime.
Mrs. Obama's trip started in Japan, one of Asia's richest countries, and concludes in Cambodia, one of Asia's poorest.
Cambodia is one of 11 countries where the "Let Girls Learn" program is being rolled out. The others are Albania, Benin, Burkina Faso, Georgia, Ghana, Moldova, Mongolia, Mozambique, Togo and Uganda.
After meeting students Saturday, Mrs. Obama spoke to a group of U.S. Peace Corps volunteers who will be running the global project and called on them to share American values with their students.
"Values like equality, inclusiveness, fairness, openness ... aren't just American values, we know this. They are universal human values," she said. "When girls get educated, when they learn to read and write and think, that gives them the tools to speak up and talk about injustice and demand equal treatment. It helps them participate in the political life of their country and hold their leaders accountable."
Cambodia was devastated in the 1970s by the brutal Khmer Rouge regime, which closed schools and executed intellectuals among its many victims. Foreign aid and investment have helped the economy grow rapidly in the past decade, but the education system and overall development remain stunted.
Even today, most Cambodian children drop out of school, according to 2014 statistics from the Education Ministry that show 95 percent of children enter primary school but only 20 percent finish secondary school.
Poverty is the main problem, especially in rural areas, where families can't afford the minimal costs of education and keep children home to help support the family, according to UNICEF.
Cambodia's problems with child prostitution, child labor and human trafficking also play a role, and often target girls.
The White House said that Japan and Cambodia were chosen for Mrs. Obama's trip because one is a donor country and one is a country in need, and it reflects a U.S. commitment to be more involved in the Asia-Pacific region.
The trip has given the first lady a chance to soak up some of Asia's rich culture. Later Saturday in Siem Reap, she will visit Cambodia's famed Angkor Wat temple complex before heading home Sunday.