Fire causes massive explosion at Nigeria fireworks factory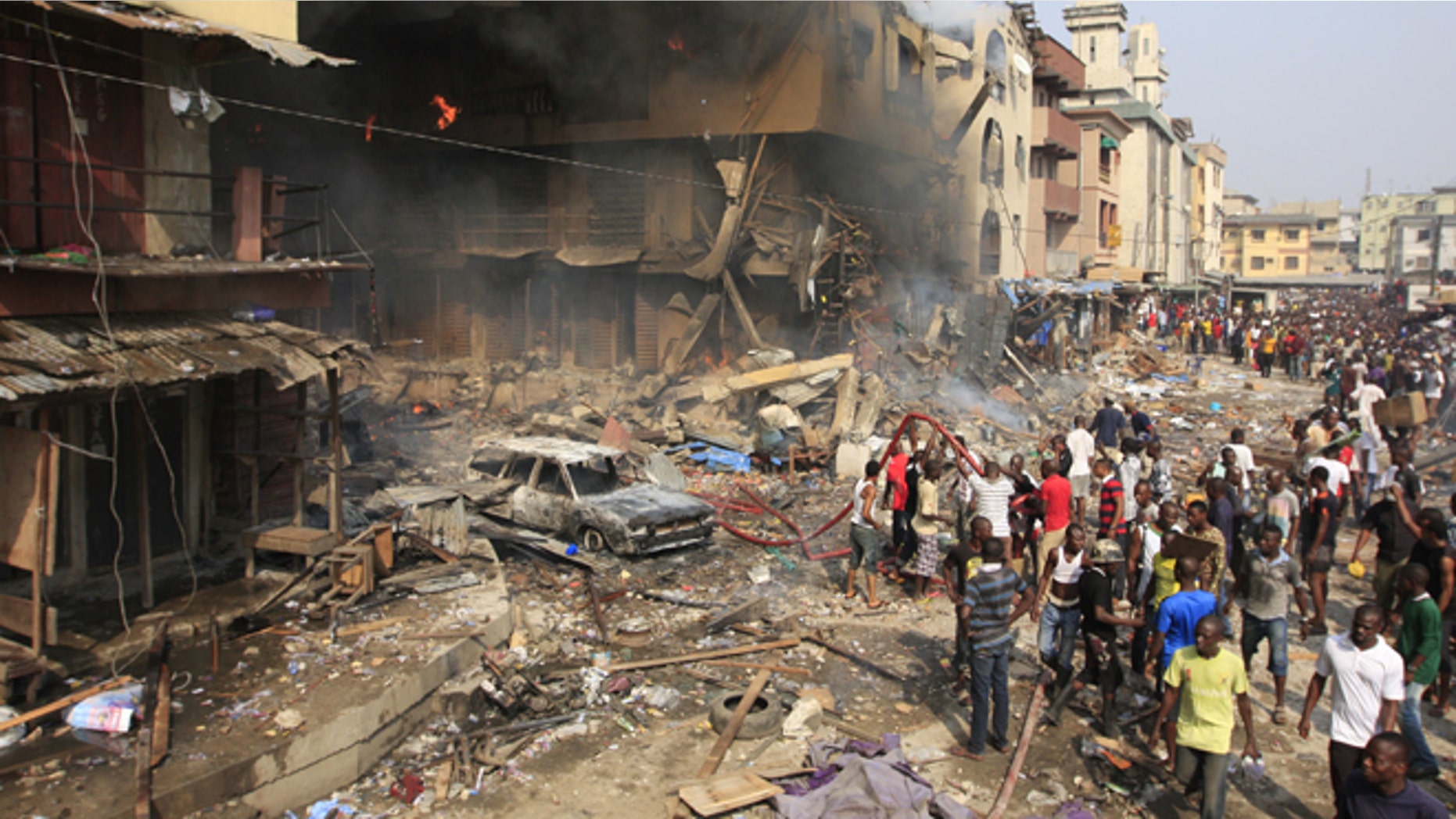 LAGOS, Nigeria – A massive explosion ripped through a warehouse full of fireworks in Nigeria's largest city on Wednesday, sparking a fire that threatened surrounding city blocks and sending a plume of thick smoke high into the sky.
The blast happened around 9 a.m. in the Jankara area of Lagos Island, a neighborhood of narrow streets and tall cement buildings holding shops and housing people sometimes a dozen to a room in the megacity of Lagos. The force of the explosion echoed miles away and shook windows.
It was immediately unclear if anyone was inside of the building at the time of the explosion. An Associated Press journalist saw members of the Nigerian Red Cross treating people with minor cuts and bruises a few blocks from the site. Dr. Femi Oke-Osanyintolu, Lagos state's emergency manager, told the AP he wasn't immediately aware of any casualties.
"While security agencies (will) investigate and determine the real cause of the explosion and fire outbreaks, casualty figures are yet to be determined," said Yushau Shuaib, a spokesman for Nigeria's National Emergency Management Agency. "Some residents who were injured while attempting to assist in putting off the fire have been taken to hospital for treatment."
Rubble-strewn streets surrounding the burning building were covered in the spent shells of fireworks. Several police officers and security officials found large, mortar-like fireworks in the building, the kind wired to explode as part of a large arrangement put on by professionals.
Nigerians commonly shoot off fireworks and firecrackers to mark Christmas and the New Year, with hawkers roaming in traffic with fistfuls of the small explosives to sell to passing drivers. Local government officials have tried to ban fireworks this year, in part due to safety and in part due to the fear they can cause in a nation where a radical Islamist sect is carrying out shootings and car bombings. Nevertheless fireworks have exploded across the country in recent days to mark the holiday season.
Immediately after the blast Wednesday, thousands quickly filled the streets surrounding the still-burning buildings. Others ran away as fireworks continued to explode inside. A half-dozen firefighters arrived at the scene with two trucks and locals also ran fire hoses from the trucks to nearby buildings to try and beat back the flames.
The trucks quickly ran out of water. One man even scooped up water from a puddle with a bowl in an attempt to fight the blaze. One firefighter briefly fought with a young man who took his firefighting helmet off his head and ran away into the swarming crowd. The firefighter shrugged and went back to his truck as the building continued to burn.