FIFA turmoil far from over: Key questions in World Cup bid corruption probe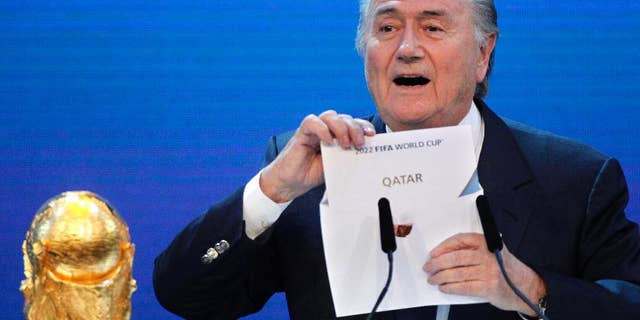 NEWYou can now listen to Fox News articles!
GENEVA – Just when you thought the turmoil surrounding FIFA couldn't get any more tangled, along comes a new twist to stir things up even more.
If the leaders of soccer's scandal-scarred world governing body thought that Thursday's report into the 2018 and 2022 World Cup bidding process would put to rest any suspicions of corruption, they should think again.
Winning host nations Russia and Qatar got what they hoped for when the report from FIFA ethics judge Joachim Eckert largely cleared their names, but the saga is far from over. That's because the American lawyer who led the investigation disputed Eckert's findings.
Eckert declared the case closed, ruling that there was no evidence that would support a reopening of the votes that awarded the 2018 World Cup to Russia and the 2022 tournament to Qatar.
Yes, the German judge said, some wrongdoing was committed by eight of the nine bidding candidates — including Russia and Qatar. But no, the integrity of the December 2010 votes was not affected.
FIFA, which released Eckert's report, said "a degree of closure has been reached."
Not so fast.
American prosecutor Michael Garcia, who carried out the investigation acted on by Eckert, struck back against "numerous materially incomplete and erroneous representations of the facts and conclusions" in his work.
Garcia intends to appeal.
The drama continues.
Here are some key questions about the case:
___
WHO ARE THE KEY PLAYERS?
From the time Michael Garcia was appointed FIFA's independent prosecutor in July 2012, his tenure would be defined by his work on the 2018-2022 case.
The former U.S. Attorney for the Southern District of New York had no prior connection to professional soccer, a key requirement for getting the job from FIFA's executive committee — the same people now in his sights.
On the same day, Joachim Eckert was appointed chairman of the ethics judging chamber, ruling on cases brought by Garcia.
While Garcia's background at Interpol brought him to FIFA's attention, Eckert's work as a trial judge in Munich — including a celebrated industrial bribery case in 2010 — made him the top choice of FIFA's then anti-corruption advisers.
Their different legal cultures — American-style disclosure vs. German privacy and caution — has caused conflict.
Of course, FIFA President Sepp Blatter is a key player, though all FIFA's judicial bodies are promised full independence.
___
WHO DID GARCIA TARGET?
Garcia investigated the 24 voting members of FIFA's executive committee who were in office in 2010, as well as staffers from the nine bids, representing 11 FIFA member federations.
Garcia's targets were anyone involved in seeking and giving bribes and favors, and arranging vote-swapping deals.
In 430 pages of investigation reports delivered to Eckert in September, Garcia identified individuals he wanted to open proceedings against, likely including cases previously reported in the media — often in Britain — and dismissed by the pre-2012 ethics panel.
Garcia's list, which he wants published despite strict FIFA confidentiality rules, could include current and past FIFA board members who resisted cooperating. That could include the likes of former Germany great Franz Beckenbauer, who received a 90-day ban for not cooperating with the probe.
An official familiar with Garcia's report told The Associated Press it criticized the culture of entitlement at FIFA's top table, something which was not reflected in Eckert's report. The official spoke on condition of anonymity because the investigation dossier is confidential.
Garcia had limited power to subpoena key evidence or force former FIFA officials to testify.
___
WHO DID ECKERT TARGET?
No one too strongly, it seems.
Eckert seems to demand a criminal burden of proof, while sports law cases typically require judges to reach "comfortable satisfaction" in verdicts.
The German assesses certain acts by whether they broke rules — even FIFA ethics and conduct rules which left clear loopholes — rather than if they raised suspicion.
Russia's explanation that campaign computers were destroyed and emails could not be retrieved by Google are noted by Eckert without comment.
Long-held suspicions about payments for Argentina and Brazil (both FIFA voters' countries) to play a friendly in Qatar two weeks before the vote are partly explained. Still, because the match was funded by a wealthy individual and not directly from the Qatar bid, no rule is broken.
Similarly, Qatar's $1.8 million sponsorship of an African football meeting in Angola in 2010 — conditional on barring access to other bidders — did not break any written rule to trouble Eckert.
___
WHAT HAPPENS NEXT?
Garcia says he will go to FIFA's appeals committee to challenge Eckert's decision to close the bid corruption part of the case.
If Garcia loses before FIFA's in-house panel, he can take the case to the Court of Arbitration for Sport.
Meanwhile, Eckert has asked Garcia to identify individuals whom the judge refused to identify Thursday to protect their personal rights, another sign of the German's commitment to secrecy — something he shares with Blatter.
The prospect of Garcia interrogating FIFA officials before Eckert in a closed-door session at FIFA's Zurich headquarters is intriguing.
Eckert has said his final judgments in the case could occupy him until April.
Those verdicts — and potential bans for football officials — can be appealed first to FIFA and then CAS.
This investigation could yet stretch into 2016.