Fierce enemies, Argentina's incoming and sitting presidents trade barbs, clash over sash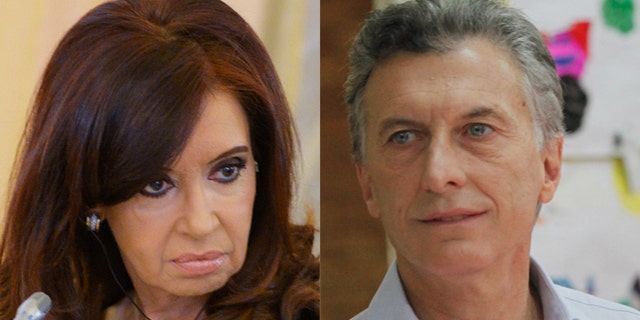 Argentina's President-elect Mauricio Macri still has over a week to go before he moves into the presidential palace and he is already dealing with a major political controversy that threatens to impugn his governance before it even begins.
And it stems from the person who currently holds office in the Casa Rosada.
Macri claims that outgoing President Cristina Fernández de Kirchner is sabotaging his presidency before he even takes office – causing problems that include returning federal funds to provincial governors to stymying efforts to hold productive meetings about the government transition.
"I think it's clear that the president does not want to cooperate," Macri said, according to La Nación, one of Argentina's largest newspapers. He added that that "it would appear she will continue to find ways to create as many problems as she can for the new government."
While transitioning to a new administration can often be bumpy, the two on the opposite sides of the political aisle are taking their disagreements to a whole new level.
Analysts say that Fernández's refusal to aid the presidential transition process indicates her frustration over her party, Frente para la Victoriam (FPV). It also shows, they say, that she will try to continue to play a major role in Argentinian politics after she leaves office.
"Cristina Fernández de Kirchner is not going to go quietly into the night," Jason Marczak, the deputy director of the Washington D.C.-based Adrienne Arsht Latin America Center at the Atlantic Council, told Fox News Latino.
The most pressing problem facing Macri when he takes office on December 10 is Fernández's decision to return over $10.1 million in funds to provincial governments, funds that were previously diverted to the ANSES social security agency.
The move – one that Fernández had said she would not do – not only further drains the coffers of the financially-strapped government, but also sets up a tense relationship between Macri and the governors of these provinces as his administration scrambles to find the funds to pay them.
"Withholding the funds was originally meant as a way to deal with provincial governors, but now she delegated out the funds because it will create problems for Macri," Bruno Binetti, a research associate at the Inter-American Dialogue, told FNL.
"Less money means less way for Macri," Binetti said.
Traditionally the staffs of outgoing and incoming presidents hold multiple meetings that last hours to discuss issues important to the country. So far, however, Fernández and Macri have met once for 20 minutes and all that was discussed was the inauguration ceremony.
The back-and-forth bickering has become so childlike that the two are even in a bitter fight over the presidential sash.
The Argentinian constitution says the president must be sworn into office in the congressional building and that a procession should be held from Congress to the Casa Rosada, where the outgoing president bestows a sash on the country's new leader. Fernández, however, has taken issue with handing over the sash at the presidential palace, saying it should be done in Congress – where she will likely be joined by many of her supporters.
This fights come after a bruising election that included a primary in August, a first round in October and then a runoff in November. They also come at a time of major transition in the South American nation of 41 million.
For 12 years, Fernandez and late husband and former President Néstor Kirchner dominated the political landscape. They spent heavily on social welfare programs for the poor, passed laws such as legalizing gay marriage, raised tariffs to protect local industries and greatly increased the size of government and its role in society.
Macri, a conservative who ran on free-market ideas, promised to undo many of those policies while combating corruption and myriad economic problems, like inflation near 30 percent, near-zero growth the last several years and byzantine controls on the buying of U.S. dollars that has created a booming black market.
Fernández's actions in the waning days of her presidency have many people speculating that she has no plans to leave a politics behind once she steps down, especially since she still enjoys around 40 percent support in the latest polls and is viewed as the leader of the FPV party.
This is good news for her allies and bad news for Macri, who will need to act swiftly upon taking office to fend of attacks from Fernández and her cronies.
"She is going to continue to be a thorn in the side of Macri," Marczak said. "There is going to be real pressure on Macri to deliver results early in his presidency so he can fend off any more attacks."
The Associated Press contributed to this report.