Few details month after Iran detained reporters, though hard-liners suspected having of a role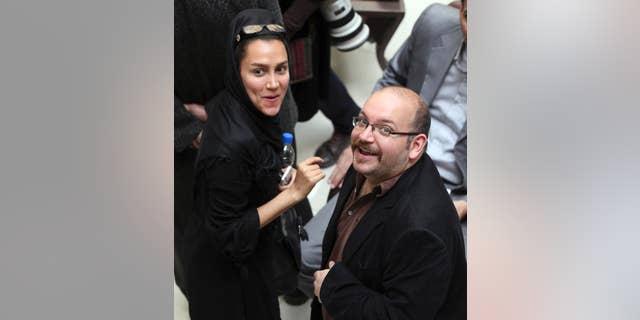 DUBAI, United Arab Emirates – An Iranian-American correspondent for the Washington Post and his journalist wife have been held in custody for a month in Iran, suggesting a possible struggle between a new guard of moderates pushing for greater freedom and the old hard-line establishment.
Jason Rezaian, his wife Yeganeh Salehi and two unnamed Iranian-American photojournalists were detained a month ago this past Friday. One of the photojournalists was released shortly after being detained, and the other freed on bail Wednesday, the Post reported. However, Rezaian and his wife remain held without formal charges and have not been heard from since being detained.
The detentions have thrust Iran's record of jailing journalists into the spotlight and complicate efforts by the United States and five other world powers to reach a lasting nuclear deal with Iran. They also underscore the opposition facing moderate President Hassan Rouhani as he tries to advance election promises of easing political restrictions and reconciliation with the West.
"These detentions are a slap in the face of Rouhani and his stated policies of more tolerance and freedoms inside the country," said Hadi Ghaemi, the executive director of the International Campaign for Human Rights in Iran, a New York-based group. He fears the journalists "have disappeared in the black hole of the Iranian intelligence and security apparatus" and are being detained outside the legal process.
Other journalists in Iran have been locked up since Rouhani's election last summer, according to Reporters Without Borders. The Committee to Protect Journalists ranked Iran as one of the world's biggest jailers of journalists last year, with at least 35 behind bars, some for years.
Rezaian, 38, holds American and Iranian citizenship and has reported from Tehran for the Post since 2012. Salehi is an Iranian national who has applied for U.S. permanent residency and works as a correspondent for the Abu Dhabi-based daily newspaper The National.
Martin Baron, the Post's executive editor, said in an emailed statement that the paper still has no information on why or where he's being held, or the state of his health.
"We reiterate our request to the Iranian government to release Jason and his wife Yeganeh. We can imagine no good reason to hold Jason, and the continued silence about his detention remains a source of profound concern to his colleagues, his family and his friends," Baron said.
Rezaian's mother, Mary, has also warned that her son is on medication for high blood pressure and his health is in danger without it.
U.S. State Department spokeswoman Marie Harf said Wednesday that American officials had raised their case in recent bilateral talks with Iran earlier this month. Iran does not recognize dual citizenship and treats Rezaian as an Iranian citizen only.
Iran has given no specific reason for the arrests. Judiciary spokesman Gholam Hossein Mohseni Ejehi said this week the journalists are being held over unspecified "security issues" and that the case was still in the "initial stages of investigation." And Gholamhossein Esmaili, the director-general of Tehran province's justice department, said last month that Rezaian was detained for questioning and Iranian security forces are "vigilant towards all kind of enemies' activities."
Ali Ansari, an Iran expert at the University of St. Andrews in Scotland, said whoever is holding the journalists likely believes they have a legitimate reason to detain them, perhaps because of someone they met.
"Given the sort of culture of paranoia that exists in the hard-line establishment, they may feel they've picked up something," he said.
In one of his last dispatches from Iran, Rezaian called organized baseball there "closer to the 'Bad News Bears' than the major leagues." It seems unlikely that lighthearted but revealing story prompted his arrest.
Rezaian, along with The Associated Press and other Western news media, also reported on an online video that showed six young Iranians dancing to Pharrell Williams' "Happy," which led to the dancers' arrests in May. In the video, hip young men and women — without the obligatory headscarf — dance and goof around on Tehran rooftops and in alleyways.
Vatan-e-Emrooz, a newspaper that opposes Rouhani, accused Rezaian of being behind the video but did not identify the source of its information. Tasnim, a semi-official news agency close to the hard-line Revolutionary Guard, carried a statement signed by the Basiji Lawyers Organization that accused the detained journalists of being "American spies" who should be sentenced to death if found guilty. The paramilitary Basij is a volunteer corps controlled by the powerful Guard.
In the meantime, Rouhani has remained silent on the case.
Haleh Esfandiari, who directs the Middle East program at the Woodrow Wilson International Center for Scholars, was herself detained by Iranian security authorities in 2007 and held in Tehran's notorious Evin Prison. She said hard-line elements in the judiciary and security services likely were behind the journalists' detention. Rezaian seems to be a careful and cautious journalist, she said, leading her to suspect that the arrests have more to do with sending a message to the moderate president.
"Whoever went after Jason decided that this is one way of embarrassing Mr. Rouhani and it was aimed basically at him," she said. "It shows what kind of infighting goes on inside Iran. ... Everywhere there are people who feel that if Rouhani succeeds they will lose a bit of their turf."
___
Follow Adam Schreck on Twitter at www.twitter.com/adamschreck.