Federal appeals court hears arguments in Arizona cross-border shooting case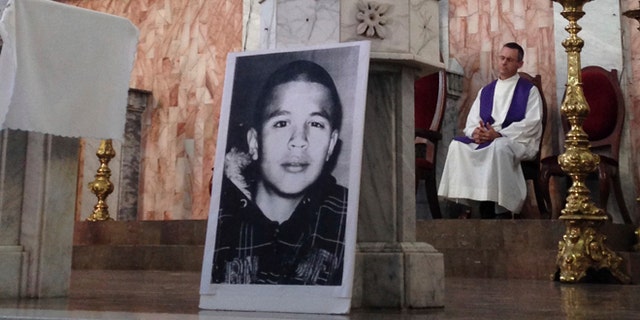 NEWYou can now listen to Fox News articles!
PHOENIX (AP) – A federal appeals court on Friday heard arguments in the civil case against a U.S. Border Patrol agent who killed a Mexican teen in a cross-border shooting in Arizona.
The hearing before the 9th U.S. Circuit Court of Appeals in San Francisco focused on whether people on foreign soil harmed by U.S. authorities have the right to sue in the United States and whether the boy who was killed, 16-year-old José Antonio Elena Rodríguez, had significant ties to the United States.
The attorney for Border Patrol agent Lonnie Swartz has argued that Elena Rodríguez was not protected by the U.S. Constitution because he was in Mexico when shot in October 2012. He said on Friday that the boy didn't have significant ties to the U.S., but a lawyer for the ACLU contested that.
Swartz opened fire from the U.S. side of the border. He also faces a second-degree murder charge, to which he has pleaded not guilty.
The appeals court said it won't make a decision until after the U.S. Supreme Court hears a similar case involving a Mexican teen shot by a Border Patrol agent at the Texas and Mexico border. The high court is scheduled to take up that case next year.
2012 SHOOTING
Elena Rodríguez was in the Mexican border town of Nogales, walking near the international border fence when Swartz shot him from Nogales, Arizona, on Oct. 10, 2012.
The Border Patrol has said Swartz was defending himself against rock-throwers. Elena Rodríguez's family says he was walking home after playing basketball with friends and did not throw anything.
An autopsy conducted in Mexico showed that Elena Rodríguez was hit about 10 times in the back. U.S. Customs and Border Protection has refused to release surveillance camera footage of the incident.
The ACLU filed a lawsuit on behalf of the boy's mother in July 2014 while the FBI continued to investigate the shooting.
Last year, Swartz was indicted for second-degree murder. He has pleaded not guilty, and his trial is scheduled for end of February.
Swartz is free pending trial and was forced to surrender his Border Patrol pistol and is on unpaid administrative leave from the agency.
TEXAS CONNECTION
The case closely is similar to a 2010 incident when a Border Patrol agent in El Paso, Texas, fatally shot a teenager who was across the border in Ciudad Juarez, Mexico.
Authorities said agent Jesus Mesa Jr. was trying to arrest immigrants who had illegally crossed into the country when rock-throwers attacked him. Mesa fired across the Rio Grande river, striking 15-year-old Sergio Adrian Hernandez Guereca twice.
A three-judge panel of the 5th U.S. Circuit Court of Appeals originally said Hernandez Guereca's family could sue Mesa.
But the full court overturned that ruling, and the Supreme Court will review the case next year.
OBAMA ADMINISTRATION POSITION
The U.S. Justice Department brought forward the criminal case against Swartz but also opposes the civil suit filed against him.
In court documents submitted in February, government attorneys argued Elena Rodríguez's family did not have a constitutional right to sue in part because it lacked "significant voluntary connections" to the United States.
At Friday's hearing, Department of Justice attorney Henry Whitaker argued that Elena Rodríguez did not have a significant connection to the United States because he never lived in the country.
THE ACLU'S TAKE
ACLU attorney Lee Gelernt argued that Nogales in Mexico's Sonora state and Nogales in Arizona are closely intertwined and that Elena Rodríguez was often cared for by his grandmother. She was a permanent legal resident in the U.S. while she cared for him and is now an American citizen, he said.
Gelernt said in an interview with The Associated Press that the criminal prosecution of Swartz should not be a substitute for a civil rights case.
"The executive branch cannot police itself. That is not in the interest of the country and is contrary to the basic principles underlying our constitution," Gelernt said.