Family of US soldier held by Taliban 'encouraged' by potential swap for Gitmo prisoners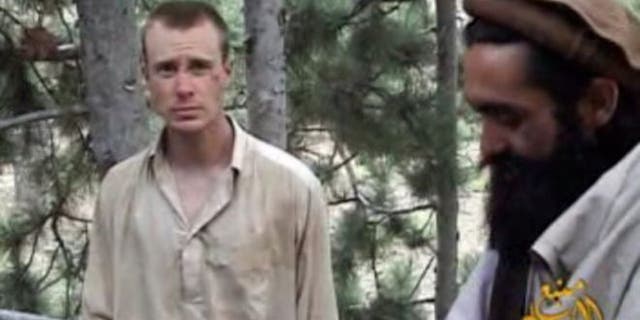 NEWYou can now listen to Fox News articles!
Relatives of U.S. Army Sgt. Bowe Bergdahl, who was captured by the Taliban four years ago in Afghanistan, are "encouraged" by reports of an offer to trade the Idaho soldier for five terror suspects being held at Guantanamo Bay.
Col. Tim Marsano of the Idaho National Guard told FoxNews.com on Thursday that Bob and Jani Bergdahl are aware of the development in Qatar pertaining to their 27-year-old son, who was captured on June 30, 2009.
"They are aware of this most recent development in Qatar and the possibility of talks starting that may include negotiations for the release of their son," Marsano said. "And they're encouraged by this new development."
The Taliban's offer follows this week's official opening of a Taliban political office in Doha, Qatar, where U.S. and Taliban representatives and Afghanistan's High Peace Council are expected to hold peace talks.
[pullquote]
Bergdahl, of Hailey, Idaho, is the only known American soldier held captive from the Afghan war. He disappeared from his base in southeastern Afghanistan on June 30, 2009, and is believed to be held in Pakistan or Afghanistan.
Taliban spokesman Shaheen Suhail told The Associated Press from the Doha office on Thursday that Bergdahl is in "good condition" to his knowledge.
Suhail did not elaborate on Bergdahl's whereabouts. Among the five prisoners the Taliban have consistently requested for release are Khairullah Khairkhwa, a former Taliban governor of Herat, and Mullah Mohammed Fazl, a former top Taliban military commander, both of whom have been held for more than a decade.
Marsano declined to discuss details regarding the potential exchange, saying his role was limited to speaking for Bergdahl's parents, who no longer wish to address the media.
Bergdahl's parents said they were encouraged by the news of the Guantanamo prisoner swap after receiving a letter purportedly from their son via the International Committee of the Red Cross.
"That letter provided them much relief and encouragement," said Marsano, who declined to elaborate on its contents. "They really hadn't heard any news on their son's well-being for over two years."
The potential prisoner exchange is the first item on the Taliban's agenda before even opening peace talks, according to Suhail, who is a top Taliban figure and served as first secretary at the Afghan Embassy in the Pakistani capital of Islamabad before the Taliban government's ouster in 2001.
"First has to be the release of detainees," Suhail said when asked about Bergdahl. "Yes. It would be an exchange. Then step by step, we want to build bridges of confidence to go forward."
U.S. Secretary of State John Kerry is expected in Doha ahead of Saturday's conference on the Syrian civil war. Kerry is also expected to meet with the Taliban, but timing remains unclear.
Bergdahl's father will ride his son's motorcycle on Saturday in Idaho during an event to remind the nation that the sergeant remains in captivity. More than 500 participants and 2,000 attendees are expected, the Twin Falls Times-News reports.
Bob Bergdahl will ride with five motorcyclists from the Illinois Rolling Thunder, a POW/MIA nonprofit, as well as POW and MIA groups from throughout the Pacific Northwest.
"The idea is for residents of Hailey and elsewhere to come together and let the world know it's time for Bowe to come home, to let him know he's not forgotten in his hometown or in Idaho," said organizer Debby O'Neill.
The Associated Press contributed to this report.