Explosion at Russia supermarket injures at least 10, reports say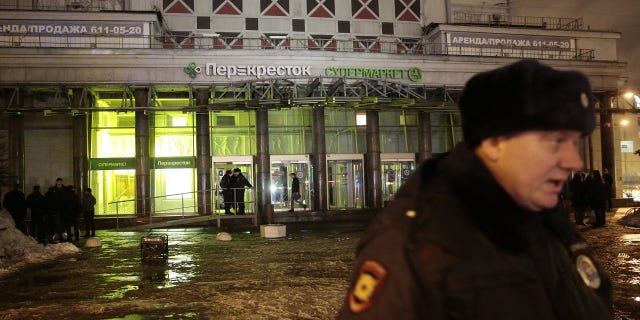 NEWYou can now listen to Fox News articles!
At least 10 people were hospitalized Wednesday after an explosion ripped through a supermarket in St. Petersburg, Russia, local investigators said.
A device, containing seven ounces of explosives and rigged with shrapnel, went off in a storage area for customers' bags at a branch of the Perekrestok supermarket chain, according to officials with the Investigative Committee.
All of the people injured were said to be in satisfactory condition, with one allowed to leave the hospital, a spokesman for the city's governor tweeted.
As of Wednesday evening, no one has claimed responsibility for the incident, which authorities have not dubbed a terror attack. But the National Anti-Terrorism Committee, which oversees anti-terror efforts in Russia, is working with officials in the search for the suspects.
One passerby, Viktoria Gordeyeva, described the scene to The Associated Press, saying people were afraid to enter other stores in the area.
"There was no panic, but people were reluctant to enter a nearby drugstore and a grocery store," Gordeyeva said.
The incident follows a series of thwarted bombing attempts earlier this month in the city. The attacks were prevented because of information shared with Russia from the CIA.
The Federal Security Service said seven suspects linked to ISIS were arrested in connection to the alleged plot. The Kremlin said the arrested suspects had planned to bomb St. Petersburg's Kazan Cathedral and other crowded sites.
The Associated Press contributed to this report.