Exploit Away: New Law In Mexico Opens Lucrative Oil Market To The Outside World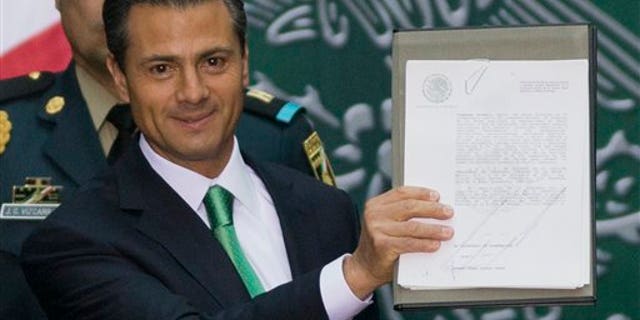 MEXICO CITY (AP) – Mexican President Enrique Pena Nieto signed into law a sweeping reform that will allow private companies to drill for oil and gas, and end a seven-decade-long monopoly held by the state oil company.
Mexican law previously restricted such work to Petroleos Mexicanos, or Pemex, in constitution articles that have long been considered sacred. The monopoly was seen as safeguarding the country's patrimony from foreign exploitation after the Mexican Revolution.
Pena Nieto said the new energy laws and other reforms have strengthened confidence in Mexico, citing them as the reason Standard & Poor's raised the country's credit rating one step to BBB+.
"We, Mexicans, have decided to set aside myths and taboos, to take a big step forward," said Pena Nieto, who argues that Mexico needs the foreign companies' expertise and technology to exploit its vast reserves.
He called the energy bill "a fundamental, historic reform" needed for Mexico to speed up the lagging pace of its economic growth.
The bill was approved by both houses of Congress last week, and in fewer than three days it received the backing of a majority of Mexico's states legislatures, a condition needed for any constitutional changes.
The laws will allow private contracts for profit- and production-sharing with companies like Exxon Mobil and BP to explore and drill for oil and gas that Mexico hasn't been able to tap. Mexico's Energy Department will also be able to auction oil and gas licenses, mostly for deep-water projects, and then collect taxes and royalties from companies for the amount extracted.
Private contracts had been banned since the oil industry was nationalized by President Lazaro Cardenas in 1938.
Congress still must draft, within three months, enabling legislation that will specify how the government awards contracts and how the new profit is managed.
Mexico's left-wing parties have vowed to promote a 2015 referendum to overthrow the laws. Opponents have argued that the reform privatizes Mexico's oil industry — a claim the government denies.
Pena Nieto said the reform is key to rejuvenating a sclerotic energy industry. Production has fallen 25 percent since 2004 despite increased investment. Pemex has been unable to exploit the country's deep-water deposits and shale oil and gas reserves.
Industry analysts and oil companies in the U.S. have said both countries will benefit from the changes. Deep-water production has the potential to boost output by a third, more than 1 million barrels a day.
But the conservative National Action Party, which backed the bill along with the ruling Institutional Revolutionary Party, still warns that the country should make sure the new energy model is transparent to avoid corruption.
According to Pemex estimates, $60 billion a year in investment is needed to tap into news fields, more than double of what Pemex spends today.
Experts and skeptics are still wary about whether Mexico has the ability to regulate these private contracts in a fair manner.
While Pemex is seen as a national symbol, Mexicans also perceive it as backward and shady. It is dominated by a union headed by the powerful Carlos Romero Deschamps, whose family has run into some scandals for showing off its ostentatious lifestyle. The new laws kick out union representatives from Pemex's board of directors.