EXCLUSIVE: Pro-US hacker 'The Jester' takes aim at nations helping Snowden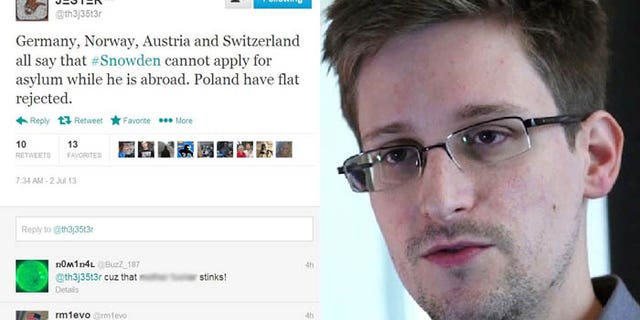 The self-described patriot hacker known as "The Jester" says he'll carry out cyber attacks on countries considering granting asylum to Edward Snowden.
Beginning early Monday, The Jester hacked into several government websites in Ecuador as reports circulated that Snowden, who divulged secrets on the National Security Agency's spying programs, could be headed there. With Venezuela emerging as a possible landing spot for Snowden, The Jester told FoxNews.com he could turn his attention to that South American country.
"These are enemies and that's how I will be treating them, and anyone who facilitates them," The Jester told FoxNews.com in an online interview.
[pullquote]
The Jester launched denial of service attacks on a website hosting Ecuador's tourism ministry and on another that hosts the country's stock market home page. While in communication with FoxNews.com, he appeared to be taking the sites on and offline. When Ecuador abruptly reversed its stance and said it would not harbor Snowden, The Jester told FoxNews.com he would restore the sites. Within minutes, they were back online.
The Jester's real identity is not known, but he has hacked into various jihadist websites, taking down Internet forums where terrorists and wannabes gather online. He calls himself a "hacker for good," and he told FoxNews.com that he sees people like Snowden and Julian Assange, the WikiLeaks mastermind who has also disseminated government secrets, as similarly dangerous to U.S. interests.
"As jihadis groom Muslims online to commit acts against us, so [Julian Assange] grooms government personnel like [Army private and accused leaker Bradley] Manning and Snowden to do his dirty work," the Jester told FoxNews.com.
Snowden is believed to be hiding in a Moscow airport and has applied to at least 21 countries for asylum. With Venezuelan President Nicolas Maduro in Moscow, there is speculation Snowden could fly back to Carracas with him.
The Jester's computer is on display in exhibit at the International Spy Museum in Washington. The museum's website describes him as a force against leakers and terrorists:
"The mysterious real-life hacktivist known only as Th3J35T3R (THE JESTER) shuts down websites he opposes," the website states. "Once he has successfully disabled targets such as Wikileaks or radical Islamist sites, he triumphantly tweets 'TANGO DOWN.'"
The latest hack attacks by The Jester are not his first targeting Wikileaks or its associates. In 2010, he knocked Wikileaks' servers offline when it was dumping State Department cables.
Neither the NSA nor the State Department responded to FoxNews.com's requests for comment.