European Union Imposes New Sanctions on Syria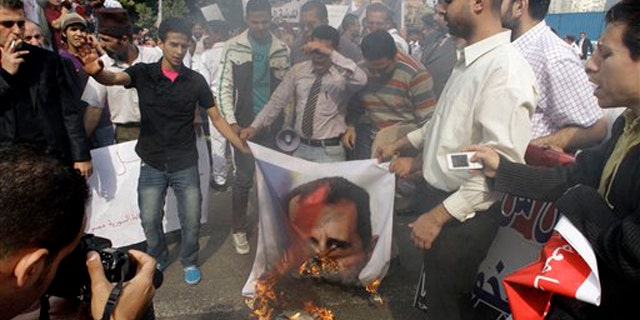 BRUSSELS – European Union foreign ministers decided Monday to impose additional sanctions on 18 Syrians in response to the killings of protesters by Syrian President Bashar Assad's regime.
The names of those sanctioned will not be known until they are published in the EU's official journal in a day or two. In a statement, the foreign ministers said they were "individuals responsible or associated with the repression and supporting or benefiting from the regime."
Sanctions generally include visa and travel bans on people and the freezing of assets.
The sanctions adopted Monday also include suspending the disbursement of European Investment Bank loans.
"The European Union continues to be deeply concerned by the deteriorating situation in Syria where according to the United Nations more than 3,500 people have been killed since March," the statement said. "The EU again condemns in the strongest terms the ongoing brutal repression and widespread human rights violation."
The EU had already placed sanctions on 56 Syrians and 19 organizations in its effort to get Assad to halt his bloody crackdown on the eight-month uprising, and has banned the import into the EU of Syrian crude oil.
The 27 foreign ministers also issued a statement expressing "increasing concerns over the Iranian nuclear program and the lack of progress in diplomatic efforts."
A recent report from the International Atomic Energy Agency indicates that Iran's nuclear program includes clandestine efforts to build a bomb.
The EU statement urged Iran to address the international concerns over the nature of its nuclear program by cooperating with the international nuclear agency and engaging in serious negotiations.
Dutch Foreign Minister Uri Rosenthal, for one, declined to rule out a military strike in Iran.
"I think that we are talking about stepping up sanctions, that's for sure," Rosenthal said before the meeting in Brussels. "It should be through the United Nations, if possible at all. And I don't think that we should exclude any other options at the moment."
But German Foreign Minister Guido Westerwelle rejected any talk of military intervention.
"We think this is counterproductive, we are against it, we warn against talking about it," Westerwelle said. "Iran has the right to use nuclear power peacefully. But it is Iran's duty to abstain from nuclear arming and to make this clear in a transparent manner."
In Berlin, Foreign Ministry spokesman Andreas Peschke told reporters that Germany would like to see a fresh round of EU sanctions against Iran to "send a clear signal that the current course of noncooperation must have an end." Peschke said Germany was also talking with Russia and China about the idea.