EU member states fear Syrian refugee influx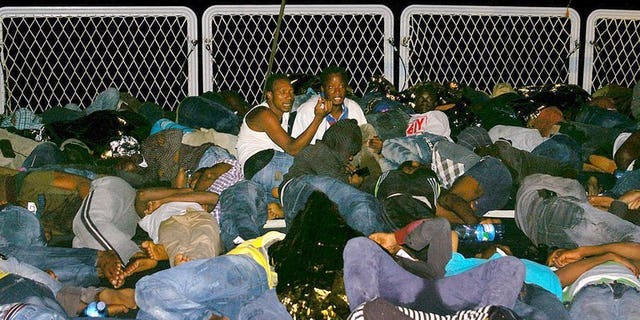 BRUSSELS (AFP) – European Union governments are bracing for a surge in Syrian refugees that threatens to become a flood as hopes fade for a quick end to the bloody civil war.
Some two million Syrians have fled to neighbouring countries so far, with four million internally displaced as the death toll mounts to more than 110,000.
Thousands are seeking a new life in the EU, especially in the bloc's wealthier member states, with Italy among the worst affected.
The European Commission, the EU's executive arm, has warned to be ready for a massive influx, especially if there are US military action against forces loyal to President Bashar al-Assad, one EU official said.
"For the moment, the number of those arriving is manageable," the official said, adding: "The vast majority do not want to leave because they still hope they will be able to return home."
However, as those hopes fade, the trickle of refugees seeking a new life in the EU is beginning to grow.
Italy is among the worst affected, with some 3,000 refugees arriving in August alone, according to UN refugee agency data.
The total number of Syrians seeking refuge there have risen to 4,600 so far this year, up from just 369 in 2012, the UNHCR said.
UNHCR spokesman Adrian Edwards said most were families who had crossed the Mediterranean from Egypt.
"Fundamentally, the outflow is a symptom of the conflict inside Syria on the one hand and the strains on asylum in the surrounding region," Edwards said.
Italian Prime Minister Enrico Letta has said he expects the problem to worsen while Interior Minister Angelino Alfano described the situation as an "emergency" in Sicily, in the south where many refugees land.
Alfano said Italy was tripling bed spaces in refugee centres to 16,000 in expectation of more arrivals and would push for a change in European asylum rules to facilitate family reunions which would make it easier for Syrians to leave Italy for northern Europe.
Under current EU rules asylum seekers are handled by the country they arrive in but several countries, as in Italy and Greece, are unhappy at bearing the brunt of the exodus while others such as Germany have long claimed the system is open to abuse.
Bulgaria has asked the EU for help, with its facilities overwhelmed by the arrival of some 4,000 asylum seekers so far this year, nearly half of them Syrian.
"We are working to minimise the risks not only for Bulgaria but for the European Union also," Bulgarian Interior Minister Tsvetlin Yovchev told AFP.
"Bulgaria's capacities are limited and we are nearing the point when we will no longer be able to manage these risks."
Bulgaria, which shares a border with non-EU Turkey, fears that up to 10,000 more refugees, mostly from Syria, could arrive in coming months, Yovchev said.
Britain, Belgium, France, Germany and Sweden have insisted that there can be no easing of asylum rules.
Between them, the five states accounted for 70 percent of the 330,000 asylum requests submitted in the EU last year and feel they are already contributing more than their fair share.
So far in 2013, of 13,000 asylum requests by Syrians, some 4,700 have been made in Sweden, 4,500 in Germany and 700 in France, according to EU figures.
Sweden is the only EU country to promise blanket asylum to all Syrian citizens but they must apply in Stockholm, and not at Swedish embassies abroad.
The UNHCR has called on EU countries to take in 10,000 Syrian refugees but only Germany with 5,000, Austria 500 and Finland 500 have agreed to do so.
Britain says it has no plans to host Syrian refugees, offering financial help instead, while France has been silent on the issue.
In Brussels, budget cuts have left the EU short on funds and Commission President Jose Manuel Barroso had to scrape the barrel in June to get 400 million euros for the UNHCR.
Germany meanwhile has called for a conference on Syrian refugees, with EU interior ministers scheduled to tackle the problem early next month.