Egypt's TV satirist undeterred after arrest warrant, still poking fun at president, prosecutor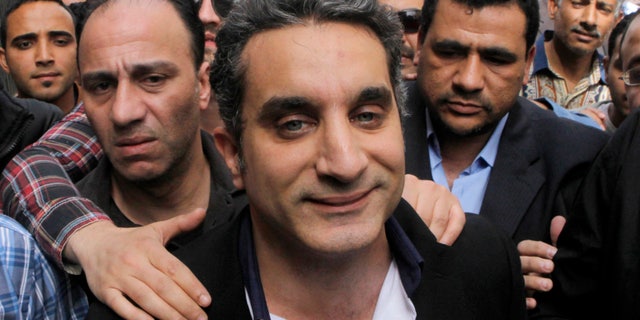 CAIRO – Undeterred at being interrogated by prosecutors, a popular Egyptian TV satirist is poking new fun at the Egyptian president.
Bassem Youssef — known as Egypt's Jon Stewart — was interrogated this week for allegedly insulting Islam and the country's leader, questioning that drew criticism from Washington and rights advocates.
In his weekly Friday TV show, Youssef says he "overdid it." He said all his segments wouldn't focus on the country's Islamist President Mohammed Morsi.
Youssef said that after his visit to the attorney general, he had decided not to talk on the show about Morsi — just the attorney general.
The television audience erupted in applause and laughter, and then he spent a good part of his show ridiculing both.