Egypt's Mubarak back in court for trial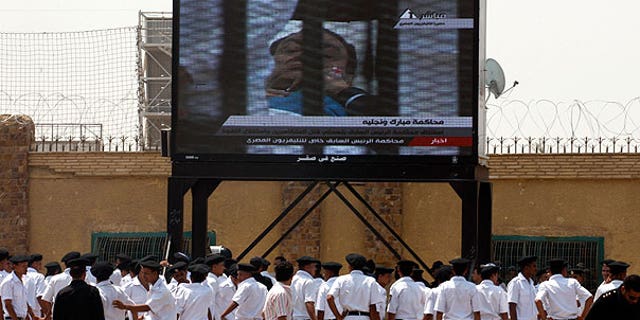 CAIRO – Former President Hosni Mubarak returned to a Cairo court Monday on a stretcher for the next session of his trial on charges of corruption and complicity in killing protesters during Egypt's uprising.
The ailing, 83-year old Mubarak arrived in a helicopter from a Cairo hospital where he has been held since his first court appearance on Aug. 3. He was then wheeled into the metal defendants' cage on a bed with his two sons, Gamal and Alaa, by his side. The sons are facing only corruption charges.
Mubarak appeared in a blue jumpsuit. His two sons wore white prison uniforms.
Before arriving in the dock, Mubarak's older son Alaa covered a state TV camera to try to block it from filming his father being taken out of the ambulance to go into the courtroom. Mubarak's health had been subject of speculation for weeks before his trial, and many suspected he might not even appear in court.
Brief scuffles between Mubarak supporters and opponents broke out outside the trial venue at a Cairo police academy. Hundreds of Mubarak supporters protested outside the courtroom over what they called "humiliation" of the former leader.
As Mubarak lay in the cage, lawyers for the relatives of the slain protesters shouted and bickered before the judge arrived in the room, apparently over seats.
Mubarak is charged with complicity in the killing of protesters during the uprising that ousted him and of corruption in accepting gifts to facilitate a land deal. His former interior minister, who was in charge of police and other security forces who violently confronted mostly peaceful protesters, is also a defendant in the same case and accused of complicity in killing some of the nearly 900 protesters who died.