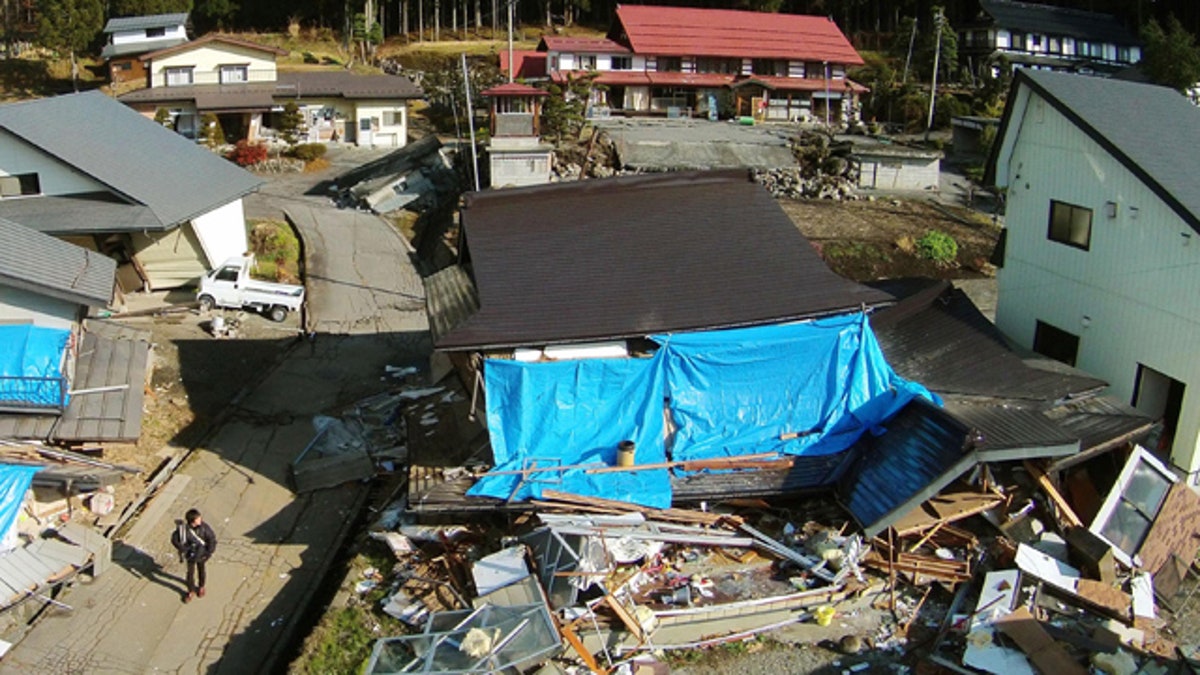 TOKYO – Dozens of villagers remained in shelters Monday as aftershocks rattled a region in central Japan hit by a weekend earthquake that injured at least 41 people and destroyed more than 50 homes.
The damage in a mountainous area that hosted the 1998 Winter Olympics was worse than initially thought, though many were rejoicing at the lack of any deaths.
At least 20 people, including one 2-year-old, were pulled from homes toppled by the magnitude-6.7 earthquake late Saturday night.
"Words cannot express my gratitude," Kimito Tsutaki, 73, told national broadcaster NHK after she was pulled from her quilt bedding. Neighbors used a car jack to lift collapsed timbers from on top of her.
Seven of the injured had broken bones, many after being crushed by heavy furniture as they slept on their tatami floors.
Some residents said they used the flashlights on their mobile phones to find their way to safety in the pitch dark.
Local experts said the structure of the mostly wooden houses, which are built to withstand loads of many feet of heavy, wet snow in the winter, helped prevent more casualties.
"Houses in that area are built with many strong supports and that may be a reason why there was not more damage," Reiji Tanaka, a professor emeritus at Tohoku University of Technology, told the Yomiuri newspaper.
The quake struck west of Nagano city at a relatively shallow depth of 5 kilometers (3 miles) in an area prone to strong earthquakes due to an active fault, experts of the Japan Meteorological Agency reported.
The agency reported nearly 80 aftershocks by midday Monday.
The same area was struck by a magnitude-6.7 earthquake the day after the March 2011 quake and tsunami that devastated a long stretch of Japan's northeastern coast, killing about 19,000 people.
The disaster affected a relatively sparsely populated area, but renewed concerns over preparedness for major quakes in major cities like Tokyo. The Asahi newspaper cited local governments saying that most of the towns likely to be affected by a major quake expected to strike off Japan's eastern coast were not prepared to provide emergency housing. Land for such facilities was in extremely short supply.
The hardest-hit area appeared to be Hakuba, where at least 43 homes were destroyed there, and 17 people injured, national and local disaster agencies said. Another seven homes were lost in Otari, a nearby village to the north. Non-residential buildings were also destroyed, with officials assessing the extent.
Many parts of rural Japan are occupied mostly by elderly people, many of them living on their own. After a 2004 earthquake to the north in Niigata, communities organized teams to ensure that no victims would be stranded or unaccounted for.
"Villagers Unite, Zero Casualties, Thanks to Everyone," said a headline in the Nikkei newspaper.