Dog's hair was so badly matted his foot rotted off, UK officials say
An abandoned dog's fur in England was so badly matted it caused one of the animals' paws to rot off, officials in the United Kingdom said Wednesday.
The Royal Society for the Prevention of Cruelty to Animals said in a news release the poodle breed dog named Benji was found abandoned in the eastern city of Peterborough.
"I was truly horrified when I saw Benji, he didn't even resemble a dog," RSPCA inspector Carrie O'Riordan said. "Apart from the matting he smelt extremely bad and his fur was coated in feces, urine and fleas. In all my years as an inspector, I have never seen a matted dog as bad as this."
The RSPCA said Benji was severely dehydrated and could barely move when he was found.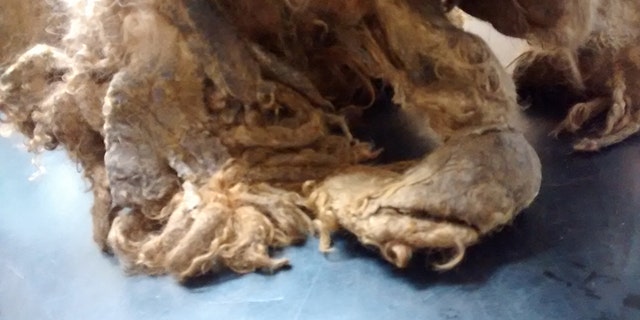 The pooch had to be sedated while a team of four people spent two hours shaving over 2.5 pounds of fur off his body, according to the animal charity.
"This dog rescued by @RSPCA official was dumped in an appalling condition. @RSPCA_official investigating," RSPA Inspector Dermot Murphy posted to Twitter. "No excuse for this level of neglect."
An RSPCA spokesman told Sky News it's likely the dog's foot was missing for months, "if not longer."
DOGS VERSUS CATS: SCIENTISTS REVEAL WHICH ONE IS SMARTER
Officials thanked the group of teenagers who came across Benji, and said they wrapped the dog in their shirts to keep him warm and played music to keep the pup calm.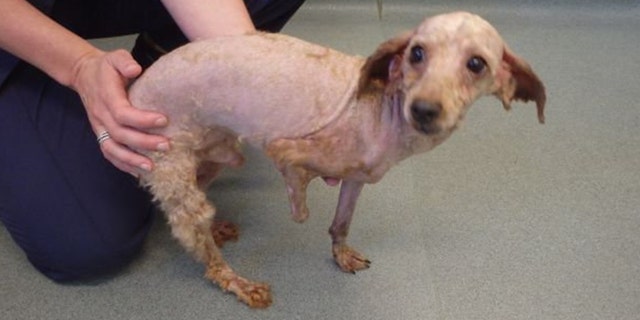 "I fear he may not have been found had it not been for them and he could have died a slow and painful death," O'Riordan said.
Benji, who officials believe is 7 years old, is now at an RSPCA animal center where staff said he has been "extremely nervous and scared" on his arrival.
The dog now is "starting to come out of himself and is very friendly and sweet."